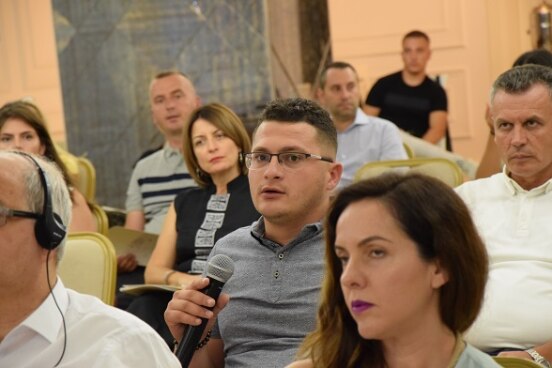 Municipalities that are included in the "100+ Villages" programme can now apply to receive grants that boost the development of economy, tourism, and infrastructure: a new grant scheme is now launched by the Swiss-Austrian Regional Development Programme (RDPA) in collaboration with the Albanian Development Fund (ADF).
"This grant scheme is part of the reforming of regional development led by the government of Albania and it is designed differently. Previous interventions have had a sectorial character, meaning that they tried to improve transport, agriculture, tourism. However, regional development at its core is a horizontal approach that touches on all sectors", said Dritan Agolli, Director of Albanian Development Fund (ADF).
"We are glad that through this Grant Fund Scheme, the municipalities are able to partner with private sector actors, business associations and among themselves. Together with Austria we have been supporting regional development for a number of years and we are looking forward to see the impact on the improvement of people's life", said Chantal Nicod, Head of Governance at the Embassy of Switzerland.
At the main launching event municipalities from Tirana region were present and received information on the application steps they need to make. Three other informative sessions are taking place in Vlorë, Shkodër, and Korçë.
Projects that may receive grants include support to tourism potentials, local economy, capacity development and light infrastructure. Interventions must bring improvement in touristic offers, economic activity of local communities, social services and management of natural resources.
The grant package is designed to boost inter-municipal cooperation but also cooperation with private businesses, NGO's, and educational institutions. It aims to concretely increase regional development and cohesion, to reduce inequalities among various regions, and develop potentials of remote areas as included in the government's "Programme for Integrated and Sustainable Development of 100+ Villages of Albania 2022-2026".
Switzerland and Austria have supported the Regional Development Programme Albania for several years as part of efforts to encourage economic development, reduce disparities and improve social and economic conditions for Albanian citizens in all regions.