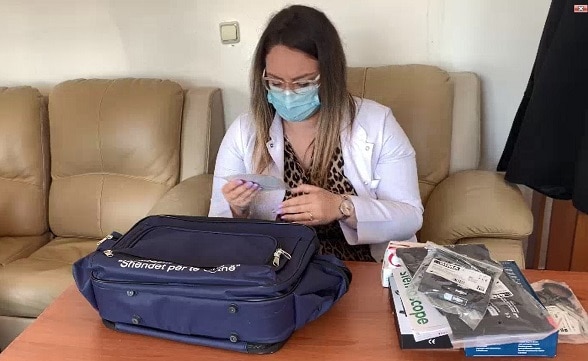 Through a cooperation between the embassies of Switzerland and Greece medical equipment and supplies were delivered at the health centre of Aliko, in the municipality of Finiq. Nurses and doctors also were trained on the use of the equipment.  
The health center of Aliko provides primary care to visiting patients but also through mobile consultations to about 5,000 inhabitants living in the municipalities of Finiq and Dropull. These equipment will help doctors and nurses to cope with Covid-19 and provide better health care services especially for for the high number of elderly people who live in rural areas. These two municipalities have a particularly high rate of migration of young people to Greece.

"We thank cordially the Swiss Embassy for the generous donation to the health centre in Aliko of Finiq municipality, Saranda. The package sent was delivered to several villages and also the commune ambulance was equipped, making it possible to cover with first aid a much wider area", said Bruna Çela, General Doctor at the health centre.

The equipment and supplies amount to just over 8,000 Euro and were procured through 'Health for All' – a project by the Swiss Agency for Development and Cooperation SDC. They include 4 portal oxygen concentrators for providing oxygen supplies at home for severe cases of Covid-19 and other conditions. In addition, doctors and nurses received personal protective equipment, tools for physical examination and oximeters.

"We have now oxygen equipment that produces 10 litres of oxygen. We have many villages and not everyone can go to Saranda's hospital and therefore we can now serve the citizens at their homes", said Eleni Papa, Coordinator for Finiq and Dropull municipalities.

After a basic training for using the equipment the 'Health for All' project team discussed with the health centre also about a future capacity building programme for doctors and nurses to improve primary health care services.

Switzerland has provided a fast and responsive support to Albania in the face of Covid-19 and is currently the main international partner in the area of primary health care in the country.