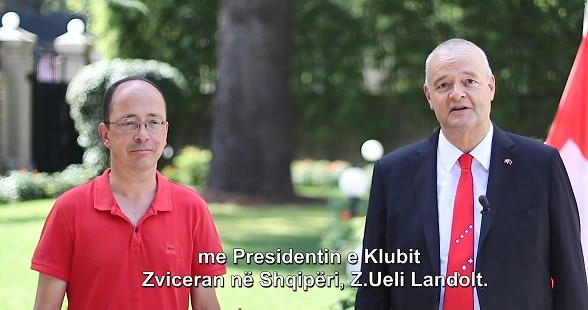 Celebration time has arrived again: August 1st is here – the Swiss National Day.
I wish all my fellow Swiss citizens who live and work in Albania: a happy August 1st!  Ich wünsche Ihnen einen schönen Nationalfeiertag! Bonne fête nationale! Buona festa nazionale! Ihnen und Ihren Familien alles Gute.
I wish to all of you – Albanian and international friends and partners – a happy day and good health.
It's the second year that we cannot meet physically due to the pandemic. We would have liked very much to meet face to face, shake hands and click our glasses with all our Albanian, Swiss and international partners.

But we adapt and go on. Our celebration this year continues through virtual means. I hope you have been able to check with the missione1agosto – a dedicated website where you can join activities, share moments, make comments and learn a few typical Swiss recipes, games, sports and curiosities. 
We also adapt our way of life, systems and societies in the wake of major global challenges such as this Covid-19 pandemic. And we have to mourn losses amongst our family members, friends and neighbours. For Switzerland, Albania and the rest of the world, there are lessons to be learned, and improvements to be made to our national and international health systems and cooperation.
Celebrating the Swiss National Day means also celebrating the core of Switzerland: democracy. Both our countries are committed to democratic values and progress. I am particularly glad that Swiss cooperation with Albania contributes to democratic governance and the building of effective institutions.
This year Albania was elected for the United Nations Security Council as non-permanent member for 2022-2023. Congratulations!
Next year it's Switzerland's turn: we hope for and wish success to our candidacy!
I am glad that today we share our celebratory greetings with the President of the Swiss Club in Albania, Ueli Landolt.