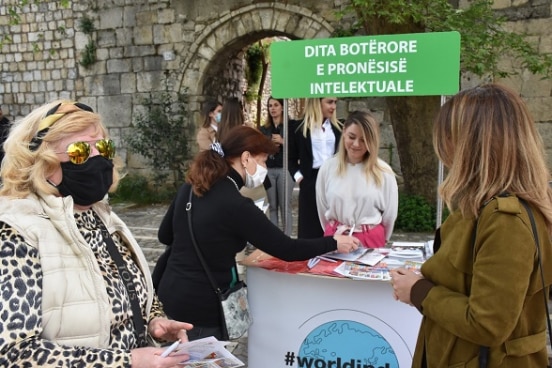 On the occasion of the World Intellectual Property Day the Albanian-Swiss Intellectual Property project (ALSIP) assisted authorities with establishing "The Training Center" and promoting intellectual property rights through information booths in Tirana. The General Directorate for Industrial Property led the activities in cooperation with the Directorate for Copyright and the Inspectorate for Market Surveillance.
"In the ongoing effort to stay ahead of competitors every business strives to create new and improved products (goods and services) that will deliver greater value to users and customers. The protection of intellectual property rights is a well-organized system which brings great benefit to any society and directly affects its economic, social and cultural development. I am happy that the Republic of Albania celebrates the World Intellectual Property Day alongside all member states around the world. I would like to thank the Albanian-Swiss Intellectual Property project as a strong partner of intellectual property institutions that supports us in reaching our goals with various activities", said Ledina Beqiraj, General Director for Industrial Property.

The new training center will offer training, information and workshops on the field of intellectual property and will serve as a first contact point for citizens, creators and companies in need of information. As a first step the ALSIP project provided equipment including a laptop, video projector and office materials, and in the next few months it will work with the center to establish training modules in support of the center's activities.

"This activity was a pillar for helping to build respect and awareness for intellectual property which involves more than just enforcement; we also have to educate, inform and change attitudes. It enhanced people's awareness of Copyright, and promoted a law-abiding attitude among them as a whole, by sharing informational materials and providing first hand communication with copyright experts. Considering that Copyright awareness is low in Albania and its opportunities are largely unexploited, public awareness campaigns are highly appreciated", said Borana Ajazi, Director of the Copyright Directorate.

To mark the World Intellectual Property Day, the three institutions set up two information booths in central locations in Tirana to raise awareness among the public on issues related to intellectual property. Several printed leaflets covering information on registering and protecting intellectual property were distributed by the two booths.

Although the two directorates are under different ministries, together with the Inspectorate for Market Surveillance they coordinate and collaborate closely to improve the functioning of intellectual property in the country.

World Intellectual Property Day on April 26th, 2021 was dedicated to small and medium enterprises (SME's) which have a crucial role in the economy and can benefit a lot from intellectual property.

Swiss assistance for intellectual property in Albania extends for a period of 4 years and supports the General Directorate for Industrial Property and the Directorate for Copyright in improving legislation and bringing in Swiss and international expertise.