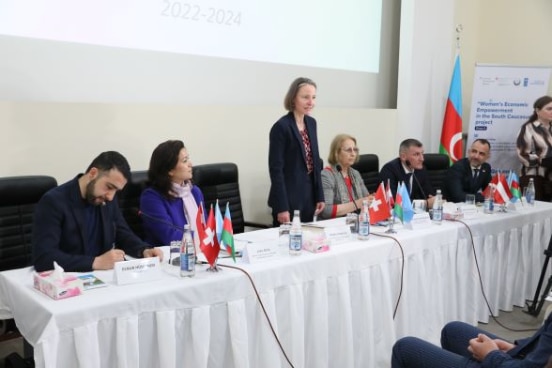 Ambassador Peneveyre and the other participants met Deputy Head of the Gusar Executive Committee, Mr. Elman Mustafayev. They exchanged views on the implementation and achievements of the WEE project as well as on its benefits for rural women. Since the launch of the WEE project in 2018, a total of 115 women-led businesses, including 30 in Gusar, were created in Azerbaijan, and nearly 700 women have received trainings to improve their business skills and their employability. Ambassador Peneveyre also praised the bilateral relations between Switzerland and Azerbaijan, noting that they cover a wide range of areas and that the 30th anniversary of the establishment of diplomatic relations is celebrated in 2022. Ms. Ambassador also mentioned the recent launch of Switzerland's new Cooperation Programme for the South Caucasus Region, which focuses on economic development in Azerbaijan and pays a special attention to gender equality (for more information on this Programme visit CoopProg22-25).
After the meeting with the Deputy Head of the Gusar Executive Committee, Ms. Ambassador and the other visitors had the opportunity to participate in a diploma ceremony where women were awarded for their recently successfully completed business training. This was followed by an exchange with rural women, who spoke about their experiences of cooperation within the WEE project, on how they had managed to increase their business skills and consequently, their household incomes. Afterwards, the participants of the visit to Gusar took part in a fair. At this fair, different women presented services and products that they can sell to their customers thanks to the training and the in-kind contributions they received through the WEE project: from poultry to dairy, sewed products to coiffure services and plant cultivation.
This eventful trip to Gusar was finalized with visits to local businesses such as bakeries and a tourism facility, which were established with the support of this Swiss-financed project.

Note: The WEE project, which is funded by the Swiss Agency for Development and Cooperation (SDC) and is being implemented by UN Development Programme, aims at promoting the economic empowerment of women in Azerbaijan. In order to achieve this, women can participate at training programs provided in a Women Resource Center. Some of them are also granted in-kind contributions to establish or expand their businesses. As part of this project, Women Resource Centers were established in Gusar and in Baku/Khazar. Another WRC located in Sabirabad was financially supported. Also as part of this WEE project, eight private companies in Azerbaijan have committed to the Women's Empowerment Principles (WEPs) (www.weps.org/about).