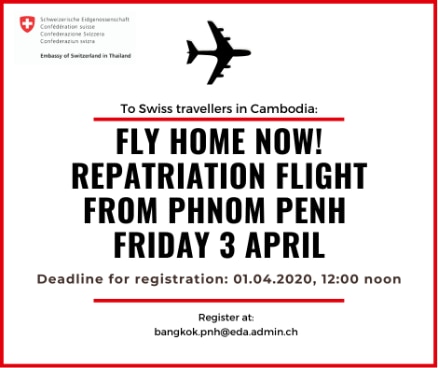 Detailed information on the charter flight:
We call on Swiss citizens currently traveling in the region to return to Switzerland as soon as possible. Otherwise, you might get blocked in the country you are currently in for the near future.
Considering that commercial flight options from Phnom Penh to Zurich will be exhausted in the next few days, Switzerland organizes a charter repatriation flight departing from Phnom Penh to Zurich on 3rd April 2020.

Please be aware that this is the only charter flight organized by Switzerland departing Cambodia, and that no further options will be provided.
Priority: Older persons, families with small children, and persons with health challenges, will have first priority for the charter flight. Thereafter, seat allocation will ensue based on the order of definitive registrations we receive. 
Journey to the international airport in Phnom Penh:
It is your own responsibility to travel to Phnom Penh as soon as possible, and to reach the international airport in Phnom Penh in time for the departure of the charter flight.
Costs:
The exact cost is not yet known. It is based on a normal price for a ticket on this route under normal circumstances. Upon return to Switzerland, the cost for the tickets will be invoiced to all passengers. Before the flight, all passengers are required to sign a declaration of commitment to bear the costs of the flight tickets.
Registration:
In order to register definitive bookings, we require the following information from all passengers:
1. Family name, first name(s)
2. Date of birth
3. Passport number / Residence permit in Switzerland
4. Validity date of the passport or residence permit in Switzerland
5. Phone number where you can be reached at any time
Please email your registration to the Embassy of Switzerland in Bangkok by
Wednesday, 1st of April 2020, 12pm noon (local time Cambodia) to:
We will then send you the details for the charter flight as soon as possible.
Please note that no health certificate is required to board on these flights.
Persons suffering from COVID-19, i.e. showing typical symptoms of COVID-19 according to the Federal Office of Public Health (FOPH), are not allowed to fly.
In case you know of other Swiss travellers in Cambodia who wish to return to Switzerland, please pass on this information to them as well.
Important:
If you already have a ticket for one of the remaining commercial flights to Switzerland, please take advantage of this option. Please only register for the charter flight if you have no other option to return.
Travel Admin App: please register! if you are currently travelling in the region as a tourist or on a business trip (not meant for permanent residents), please register on Travel Admin App (Itineris) (https://www.itineris.eda.admin.ch) so that you can be contacted by the relevant Swiss Embassy if necessary. Please make sure that the date of your trip are up-to-date and once you have returned to Switzerland, please delete your trip in the App.