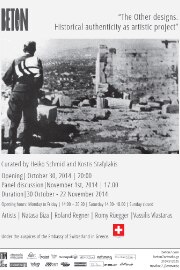 ARTISTS: Natasa Βiza (GR), Roland Regner (CH), Romy Rüegger (CH),  Vassilis Vlastaras (GR)
Beton7 Gallery presents the exhibition "The Other designs. Historical authenticity as artistic project" curated by Heiko Schmid and Kostis Stafylakis.
This Greek-Swiss exhibition is jointly conceived and curated by graduates and members of the academic staff of the Zurich University of Arts and the Athens School of Fine Arts. It includes interventions of various artists (Natassa Biza, Vassilis Vlastaras, Romy Rüegger, Roland Regener).
The exhibition aims to contribute to the current re-examination of historical authenticity by reflecting upon the status of national identity as a kind of "artistic" setup. It is the second time (following the exhibition "Dreaming of the Nation"  in 2011) that Beton7 will have a collaboration with partners from Switzerland.
Click here for more information.
Opening: October 30, 2014 at 8pm
Panel discussion: November 1st, 2014 at 5pm