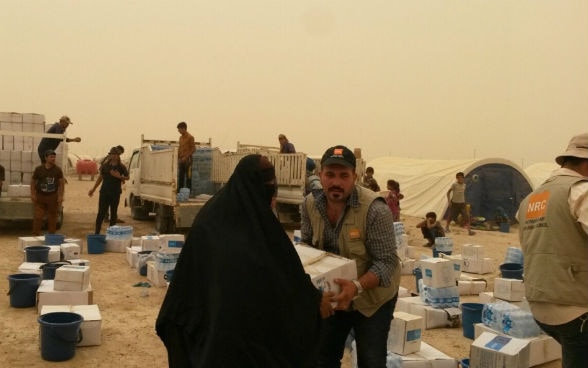 Thanks to the support of the Swiss Agency for Development and Cooperation to the Norwegian Refugee Council (NRC), additional safe water will be provided in the displacement camps of Ameriyat Al Fallujah which currently host more than 48,000 people, of which more than half are newly displaced from Fallujah. People in the displacement camps remain in dire need of safe, clean drinking water as they face situations of exhaustion after a perilous journey out of Fallujah while temperatures in the region currently average more than 45°C. Until now, NRC has only been able to provide the bare minimum of between 3 to 5 litres of safe drinking water per person per day while at least double that amount is needed to ensure adequate access to drinking water and to avoid the outbreak of diseases.
Tens of thousands of civilians have escaped the city of Fallujah, some 50 kilometres west of Baghdad, since the launch of major military operations by the Iraqi Security Forces to retake the city from the so-called "Islamic State" nearly a month ago. In the last three days, the estimated number of displaced persons from Fallujah has reached the staggering figure of 30,000 people. 
The additional support will help scale up an ongoing, USD 1.4 million project implemented by NRC in Anbar governorate. Switzerland has supported emergency relief operations of NRC, ICRC, UNHCR and other humanitarian actors in Iraq since the beginning of the current crisis in June 2014 with an overall amount of USD 33.4 million. This support has primarily helped assist vulnerable persons with emergency water, hygiene, sanitation, and protection assistance.
Address for inquiries
Mr. Manuel Etter
Head of Cooperation
Embassy of Switzerland in Amman
Swiss Cooperation Office
Hashemite Kingdom of Jordan
Tel. +962-6-585 60 20
Fax +962-6-581 59 56
Email: amman@eda.admin.ch