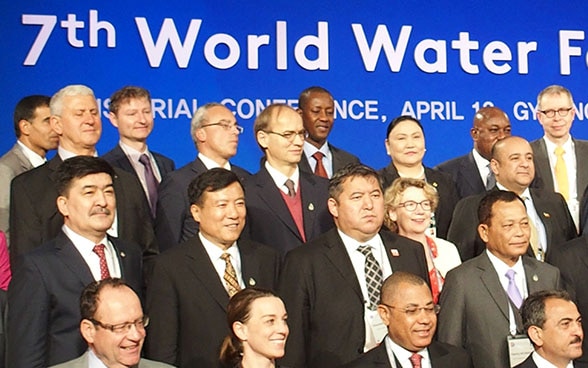 Pressure on drinking water resources is increasing worldwide. Climate change, population growth, urbanisation, industrial and agricultural usage and changing dietary habits together with other factors are causing water to become an increasingly scarce commodity, and the number of conflicts sparked by shared water resources has also grown. By 2025, half of the world's population will be living in regions where the demand for water exceeds the available resources. This will have a negative impact on local economies and social cohesion and will be a potential cause of conflict. Water is both a human right and a shared resource. A global water crisis is taking shape that could undermine the sustainable development of humankind.
The Seventh World Water Forum, which is taking place from 11-17 April 2015 in the South Korean cities of Daegu and Gyeongbuk is therefore focusing on ways of sustainably managing water resources. Topics for discussion include common coordinated cross-border water management and preventing crises triggered by water scarcity. The forum will also review the extent to which the measures adopted at the previous World Water Forum in Marseille in March 2012 have been implemented.
The sustainable use of water has been a high priority in Switzerland's national and international policy for a long time. A large number of measures have been introduced in Switzerland to protect water from pollution and overexploitation and to minimise the risk of flooding. At an international level, Switzerland is committed to ensuring all people have sustainable and secure access to sufficient water of an adequate quality to meet their basic needs. It also believes that cross-border treaties for lakes, rivers and groundwater shared between countries should be encouraged to ensure collective water management as well as social development and economic growth.
The Swiss delegation in Korea therefore includes representatives from the Swiss Agency for Development and Cooperation (SDC) and the Federal Office for the Environment (FOEN). The delegation is being led by Assistant Director General of the SDC Pio Wennubst. In the forum's exhibition area, the Swiss stand is also giving the SDC's partners and members of the Swiss Water Partnership Platform an opportunity to present innovative technology and concepts relating to water problems to an international audience.
Swiss priority for post-2015 agenda for sustainable development
In Daegu and Gyeongbuk, the Swiss delegation will also campaign to have water included as a goal in the global sustainable development agenda (post-2015 agenda). The agenda, which will be agreed at a summit of heads of state and government of UN member states in September 2015, will define future development and sustainability goals. The World Water Forum in South Korea represents an important step in this process. To underline the important role that water plays within the framework of the sustainability goals, Switzerland is also jointly organising an event on this subject together with the Netherlands and the World Water Council (WWC) on 14 April 2015 at the World Water Forum.
The World Water Council initiated the first World Water Forum in 1997 with the aim of raising an awareness of water supply problems and promoting water management at a political and social level. Since the first Forum in 1997 in Marrakesh (Morocco), the event has been held every three years (2000: The Hague, 2003: Kyoto, 2006: Mexico City, 2009: Istanbul, 2012: Marseille). The World Water Council consists of 300 representatives from business, government ministries, academia, international financial institutions, the United Nations and local governments. Around 15,000 participants are expected to attend the World Water Forum in Korea.
---
Further information:
Water – A vital resource under threat (SDC)
Topic Water (Federal Office for the Environment, FOEN)
Post-2015 agenda
A Water-secure World
Swiss Water Partnership Platform

---
Address for enquiries:
Information FDFA
Bundeshaus West
CH-3003 Bern
Tel.: +41 58 462 31 53
Fax: +41 58 464 90 47
E-Mail: info@eda.admin.ch
---
Publisher: