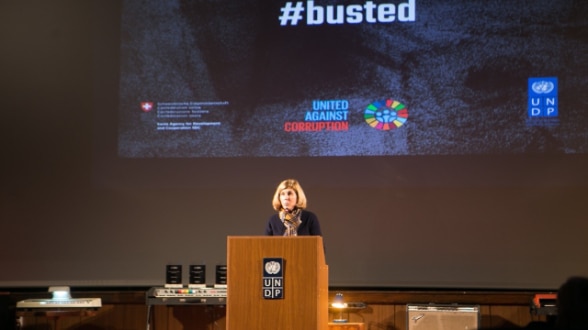 The award was announced by the United Nations Development Programme (UNDP), in the framework of the Support to Anti-Corruption Efforts in Kosovo (SAEK II), co-funded by the Swiss Agency for Development and Cooperation (SDC). During the award ceremony, Katharina Stocker, the Head of Cooperation of the Swiss Embassy stated that accountability, transparency and indeed democracy itself rests on a strong independent media that is able and willing to hold the public sector to account. She commended the dedication and courage of the journalists that brought all stories, hoping they will have a positive impact on the lives of Kosovo's citizens.
Ardiana Thaçi Mehmeti has realized a series of stories concerning nepotism and corruption in the Kosovo public enterprises. You may read the stories in the following link:  https://jacaward.com/author/ardiana-thaci-mehmeti/
Support to Anti-Corruption Efforts in Kosovo (SAEK II) project aims to strengthen institutional transparency, accountability and integrity, with a particular focus on empowering citizens and access to information.