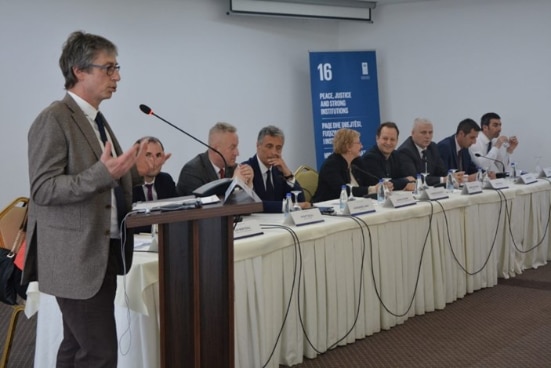 Organized for the first time in Kosovo, this initiative aims to strengthen the capacity of respective officials on analyzing financial statements, spotting fraud, developing financing investigation techniques, and finding hidden assets. The course targeted senior investigators who work on joint investigative teams for corruption cases and will use this newly gained knowledge in developing successful financial investigations and improving stolen assets recovery.
On the occasion of the licensing ceremony, the Director of the Swiss Cooperation Office in Kosovo, Patrick Etienne, stated that this initiative is important in strengthening the capacities of respective institutions to investigate corruption and cases of financial crime. He concluded by strongly urging the stakeholders to maximally use this in house expertise to further Kosovo's success rates in prosecuting corruption and recovering stolen assets.
The licensed fraud examiners course is being offered again in 2019 by SCAAK, thus continuing to increase the number of licensed fraud examiners in Kosovo.
Funded by SDC and DANIDA and implemented by UNDP, SAEK project aims to strengthen the suppression of corruption through building analytical and specialized investigative capacities to detect, investigate and prosecute corruption cases.