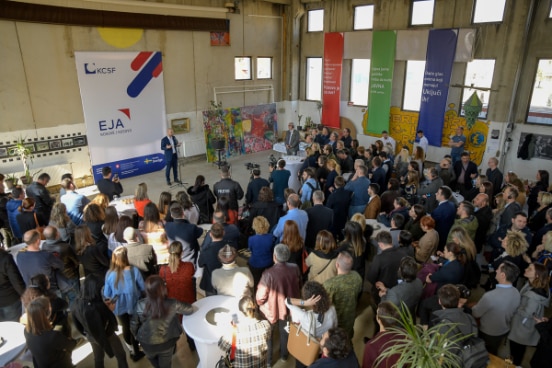 During the launching ceremony of the new civil society program Engagement for Joint Action (EJA Kosovo), Swiss Ambassador to Kosovo Jean-Hubert Lebet stated that the development of a democratic culture is a long-term and complex process. He added that strengthening the role of civil society and citizens for an active engagement in participatory shaping of public affairs is a central element for the democratization process.
Promoting citizen engagement and participation as a core value of civil society, EJA Kosovo has two key objectives:
Civil society uses and claims spaces for participation in shaping public affairs;

Civil society organizations have strengthened ties to their constituents and improved accountability and transparency towards the wider public and their constituents.
On the occasion of the launching ceremony, KCSF presented the annual Democracy Award. The residents of Biti e Poshtme (Sterpce Municipality) were honoured with the 2019 Democracy Award for their voluntary mobilization, courage and protection of environment and public interest by consistent reactions against the construction of a hydropower plant H3 Viça in river Lepenci. This year's awardees join the individuals and organizations that have made extraordinary contributions to the strengthening of democracy in Kosovo.
Designed as a pooled funding mechanism, the present envelope of EJA Kosovo is 3.1 million EUR, financed jointly through SDC and Sida. In the next four years, more than 90 organizations and citizen initiatives are expected to be supported and contribute to citizens' engagement in public policies.