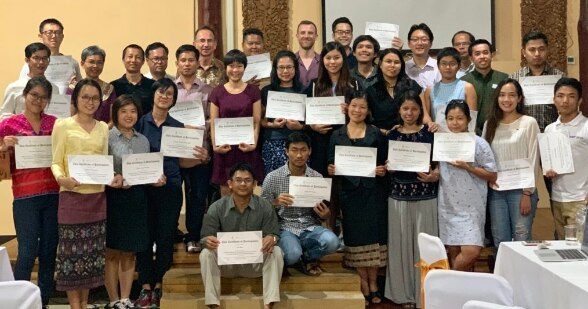 The recognition of customary practices
One of the participants from Myanmar, Mr. Khun Maung Song, shared the challenges of customary land in Shan State, where "the locals were practicing shifting cultivation and later they grew ginger, but in 2012 shifting cultivation became illegal as the law doesn't recognise customary practices. When the locals tried to get their land back, it led to violence."
The recognition of customary tenure at State level remains a question not only in Myanmar but around the Mekong Region.
The impact of Large-Scale Land Acquisitions
A challenge of LSLA in Mekong countries is that governments allocate land to agribusinesses without Free, Prior and Informed Consent (FPIC), and that has caused negative impacts to locals such as in the loss of customary lands, livelihood changes and food insecurity.
Mr. Kiengkay Ounmany shared the case of smallholder coffee farmers in Southern Laos where "some concession areas are overlapping with the land where the locals were working on for very long time. Without clear property rights, many of them are losing their land."
As the farmers could not continue their livelihoods, they had to accept the compensation paid by the foreign investment projects, even though many of them were not satisfied with the compensation. Some of them were employed by the projects with relatively low wage for 50,000-60,000 kip per day.
"One way to integrate the small coffee farmers into the coffee supply chain is through Coffee Production Cooperatives (CPCs). The CPCs were set up with financial and technical assistance from foreign agencies. They work directly with coffee exporters, sending organic coffee to European markets. The members of CPCs will be guaranteed a premium price for their coffee, but being a member is very demanding due to the fact that the farmers have to fulfill a lot of requirements", Mr. Kiengkay continued.
The impact of Chinese agribusiness in the region
The participants from China are working on the impacts of large-scale acquisitions of land through Chinese investments in the neighboring countries (Myanmar, Laos, and Vietnam), their research touching on power relations and land grabbing. Mr. Hua Xiaobo explained that as the demand for agricultural commodities from the Chinese consumer has been increasing, so Chinese agribusinesses are expanding investments into neighboring countries, which has impacted upon smallholder farmers, labour migration, power relations, and issues of sustainability.
Mr. Yang Bin, who is currently conducting research on the impact of Chinese investments in Northern Laos, claimed that studies in this area are mostly carried out by Western researchers, and he is yet to see anything published by the Chinese. The findings from those Western researchers are mostly negative, highlighting cases of land grabbing, environmental issues, chemical usage, and illegal logging. With his experience working for an international organisation many years prior to his Ph.D. study, he travelled many times to Laos and interacted with Chinese investors as well as locals. From this, he initiated the research idea:
"I wonder how other researchers got the in-depth information if they only talked to the locals. The voice of the locals is definitely very important, but investment comes from two sides, and we cannot listen to one side and ignore another."
Early 2019 he spent 3 weeks visiting Northern Laos and talked to local people and Chinese investors, gathering different stories.
"Of course there are some negative impacts, but there are also many positive ones. Especially the investors who have plans to deal with local people such as over the duration of a long concession, they try to build a relationship with the local or construct a win-win relationship. I find it interesting as there is no research about this. I'm not going to find the negative or positive, but my aim is to present facts", Yang Bin said.
Planting the seed of land governance
Apart from the Summer School providing a wonderful opportunity for participants to learn together, it was also a good networking opportunity where they will continue to exchange knowledge and share experiences in the future.
Professor Emeritus Phillip Hirsch, the course instructor, emphasized that while there is much existing literature on land-related issues, it is important to constantly ask new questions, consider what is not known, and how we are going to learn something new to add to the body of knowledge.
MRLG appreciates the enthusiasm of the participants and we hope that the knowledge they receive from this one-week intensive course will be useful for their work and the people in their countries. MRLG aims to improve land tenure security for smallholder farmers in the Mekong Region and supporting land-related education is one of the tools. We are looking forward to supporting the future summer school program in 2020, for which the date will soon be finalised by RCSD.
"I really appreciated this one-week intensive summer school program. It is very helpful for me to understand the complexity of land relations in the Mekong Region through sharing and discussing between all experienced people about the challenges and strengths of land management systems. I also learned the role of gender equality in land and related land-based resources, and the importance of the recognition for customary tenure and indigenous rights. I hope a relationship and good coordination among us will help improve good land governance in the future", Mr. Ye Min Piang from Myanmar ends.