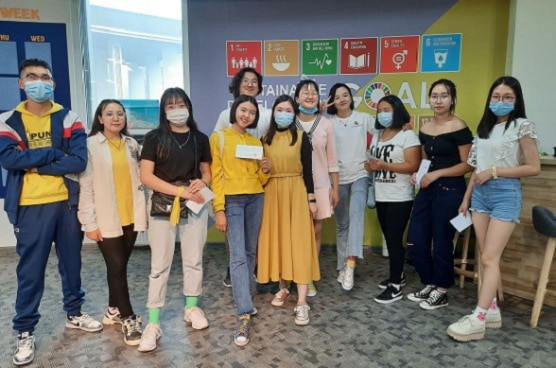 The IMPROVE program is being implemented by the Mongolian Karl Popper Debate Association in collaboration with youth between the ages of 14 and 18. The program aims to promote youth engagement and support the development of youth as active and responsible citizens with proper legal knowledge. Since 2021, program graduates have created a volunteer youth participation club.
Let's share the story of 18-year-old Temuulen, the club's first president. Temuulen graduated high school this year and was invited to study at Kazan Federal University in Russia, and he will soon leave his homeland to study abroad.
Temuulen was a curious and lively child who wanted to try everything. "My parents introduced me to books at an early age. After learning to read, I became more responsible and mature," he said.
During high school, the COVID-19 pandemic emerged, and lockdowns were introduced in Mongolia. Taking lessons from home and being apart from friends and classmates had a negative impact on his mental health. During this time, the president of his debate club suggested he join the IMPROVE program.
Temuulen said, "I wanted to focus on something other than schoolwork and online studies at the time, so I applied to the program wondering, 'Why not?'  I saw the program as a chance to develop my own skills. After taking part in the program, I learned more about what civic engagement means from a broader perspective."
Temuulen was a quiet child who spent a lot of time on the computer, preferred being alone to being with others, and was unconcerned about social and civic issues.
After participating in the IMPROVE program, he learned that knowing about society, analyzing problems, discovering their basis and causes, suggesting solutions, and talking to officials are meaningful engagement. "After two years, I knew what civic engagement was about. The biggest lesson learned was how important it is to open myself up and help other people to enhance the society we live in," he said.
In 2021, 25 IMPROVE graduates decided to create a youth participation club. During lockdowns, they carried out club activities online. In November 2021, they began doing activities in the classroom, agreed on the club rules, and elected a president and manager. After selecting the club council, the ADVANCED youth participation club was officially set up. As the president of ADVANCED, he successfully managed members, developed projects and training, and built the foundation of the club's long-term sustainability.
"At the moment, the club has 14 members. Our goal is to enhance motivation among young people (between 14-22 years old) to participate in their communities and make their voices heard by promoting civic engagement. Most of our club's members are high school students or college freshmen. That's why we've been trained as peer trainers and share our knowledge with young people around our age," Temuulen said.
When they started the club, one of their primary goals was to develop ADVANCED into a sustainable and independent non-governmental organization working in the field of civil society. ADVANCED club members won 1st place in a competition for the best artwork on the theme of civic engagement held by the CEP and Youth Wave Club. They won with a comic encouraging youth participation in society. The experience motivated the start of their activities.
Temuulen and the club members wrote plans for their first project on increasing youth participation in civic activities. They won a competition for the best small European Union-funded project, All for Youth, Youth for All, implemented by the Center for Citizenship Education. They're currently working on their next project, Let's Raise Our Hands. They're also part of the IMPROVE youth program, which is in its third year and involves more than 300 participants.
Temuulen says to his peers, "I believe civic participation is the basis of a democratic society. So, young people, we must express our opinions and speak out against injustice. It's important to be aware of who and what influences you in society. We should at least investigate how our taxes are managed. We should start with ourselves, and now is the perfect time to start."
For more information, click here.