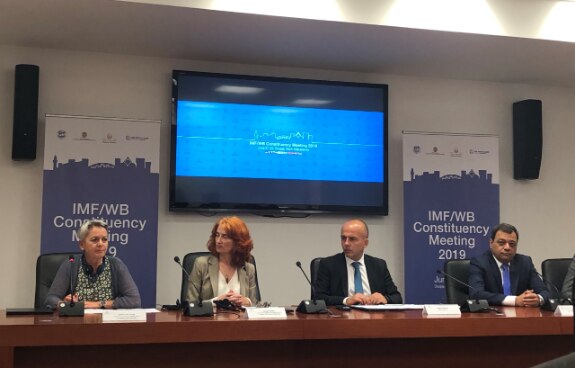 In the framework of the Swiss supported Light Manufacturing Jobs and Competitiveness Program, the Ministry of Finance of North Macedonia and the International Finance Corporation, a member of the World Bank Group, indicated their joint intention to spur the development of the country's manufacturing sector. This program will help in creating jobs, increasing domestic exports, and will drive economic development in North Macedonia and in the Western Balkans region.
The aim is to help state agencies to reduce red tape and create regulations that support the manufacturing sector. It will also support local small-and medium-sized companies to improve their operations, get access to finance, and make connections with firms in the Eurozone.
The Swiss Ambassador Sybille Suter Tejada said: "The private sector holds the key to creating jobs and driving growth in North Macedonia. By providing advice to private businesses, especially manufacturers, we can help the country capitalize on its tremendous potential."
"This partnership will help make North Macedonia a more attractive destination for foreign manufacturers and encourage the development of local manufacturers," said Dragan Tevdovski, Minister of Finance of North Macedonia. "That will have a ripple effect across the economy, as supply chains develop and local companies gain valuable know-how."
The partnership is the first phase of a planned program of the International Finance Corporation to support manufacturers across North Macedonia, Serbia, and Kosovo. 
"Manufacturing is a crucial source of jobs and foreign investment in this region," said Georgina Baker, IFC Vice President, Latin America and the Caribbean, and Europe and Central Asia. "By supporting local manufacturers, we can boost value-added exports, spur job creation, and foster more sustainable growth."
Switzerland has provided longstanding support to the light manufacturing sector in North Macedonia. With Swiss support, many domestic companies accessed new markets and the companies from this sector were unified with the establishment of the Macedonian Association of Metal and Electrical Industry. Currently Switzerland supports cooperation between schools and the private sector, to better match the skills provided by the education and training system to those demanded by the economy. Through the upcoming partnership of the Swiss Secretariat for Economic Affairs, the International Finance Corporation and the Government of North Macedonia, the Swiss support to light manufacturing goes a step further towards creating jobs and enabling sustainable growth.