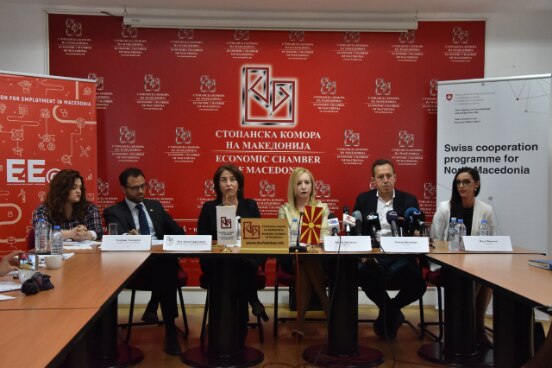 The Swiss-funded project Education for Employment - E4E@MK - created the 'Opportunity Fund' [MB1] as a tool to support training providers and companies that train young unemployed people with the necessary knowledge and skills to gain employment. At the end of their training, at least half of the participants should receive employment.[MB1] 
"Employment and economic development are one of the focus of the Swiss Cooperation programme in North Macedonia. In our discussions with many companies in the country, one issue constantly highlighted as one of their key challenges is the mismatch between the skills acquired by students and the skills needed by employers. The objective of our project is to address this mismatch by involving employers in the design and delivery of training programmes. We are here today to make official the awarding of the first grants via the Opportunity Fund", stated Stéphane Tomagian, Deputy Head of Mission at the Embassy of Switzerland in North Macedonia at an event in Skopje to present the grantees of the latest call of the Opportunity Fund.
"The formal system for vocational education cannot meet the needs of the real sector in the short term, while the lack of workforce is the biggest limiting factor for the growth of the economy. That is why the Opportunity Fund was created. We encourage companies to use the financial support and the resources available with which they can improve their efficiency and contribute to the growth of the economy as a whole", stated Aneta Trajkovska MSc., Director of Operations of the Economic Chamber of Macedonia.
Three companies have been awarded grants from the Opportunity Fund in the framework of the last call: Rontis - Veles, a Swiss company producing medical appliances; KAK, a company from North Macedonia active in the hospitality sector and known for its hotels Bistra Mavrovo and Epinal Bitola as well as the Ski Center Zare Lazarevski Mavrovo; and Kostal - Ohrid, a German company producing automotive components.
Bojana Dimovska, director of the company Rontis - Veles, emphasised that the Opportunity Fund provides a possibility for cooperation with secondary vocational schools as well. Ognjan Cigovski, director of KAK company highlighted that this tool will help companies in the hospitality sector to employ qualified young people, who will be trained by experienced practitioners.  "The Opportunity Fund will give us a possibility to develop a training programme that will correspond to the unique needs of our sector", added Nada Misoska, representative of Kostal - Ohrid.
The third call for the Opportunity Fund is already open. One more call will follow by the end of this year.