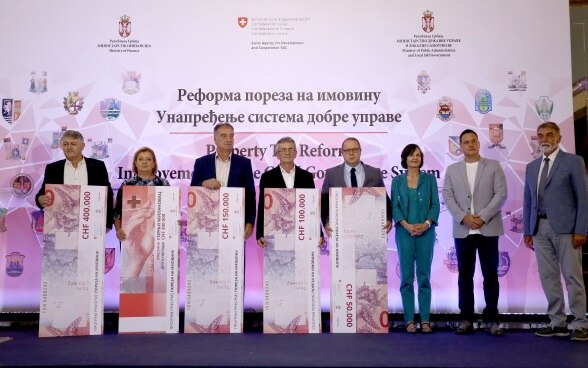 A complete inventory of properties was conducted in 44 municipalities in Serbia within the "Property Tax Reform" programme supported by the Government of Switzerland. This resulted in an increase of over 100,000 properties in local tax administration databases. The best five municipalities were awarded a total amount of EUR 870,000.
The Minister of Public Administration and Local Self-Government Mr. Branko Ruzic presented the prize-checks to the representatives of the municipalities and said that the income from property tax is increasing year by year, thanks mostly to the process of registering new and taxable buildings.
"It is important that the property records are accurate and reflect the real situation on the ground since property taxes are the original income of municipalities and cities that remain in the hands of local governments. This also serve for investments in the construction and operation of kindergartens, schools, water and sewage public companies, and to support culture and sport." said Mr. Ruzic.
In addition, he reminded his audience that the "Property Tax Reform" programme also contributed to the creation of "a public administration tailored to citizens' needs", which is one of the main goals of the ongoing public administration reform.
The Director of the Swiss Cooperation Office in Serbia, Ms. Ursula Läubli said that Switzerland has allocated almost EUR 5.5 million within the second phase of the "Property Tax Reform" programme to encourage 44 municipalities in Serbia to improve their property tax collection.
She also stressed that this support is of great importance for local self-governments as it enhances their financial autonomy and enables municipalities to invest in projects that residents find most important.
The "Property Tax Reform" programme, which is worth almost EUR 5.5 million, is supported by the Government of Switzerland and its goal is to assist Serbian municipalities to increase their own revenues through property tax collection. The programme also promotes the engagement of citizens and businesses in decision-making on how these revenues are to be spent and is currently in its second phase, foreseen to 2021.