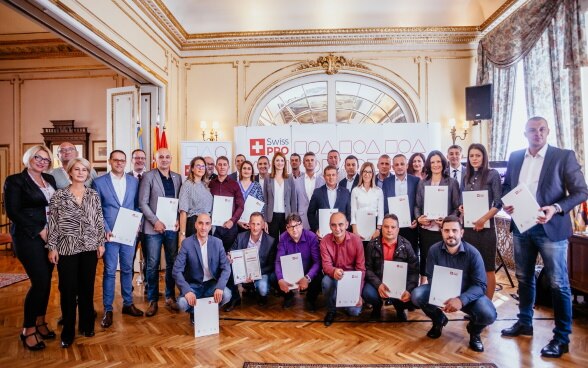 "Having a core group of people, professionals, able to disseminate this specific and rare knowledge of good governance among public officials is essential for embedding good governance principles in institutions. Thanks to the application of good governance principles, citizens can expect better, more efficient and equitable services tailored to their needs from the municipal and state administrations. These principles are extremely important, because they affect the everyday lives of people in the municipalities and the state in general. This is why Switzerland remains Serbia's long-term partner in such reforms," highlighted the National Programme Officer of the Swiss Agency for Development and Cooperation Petar Vasilev at the event "Building Good Governance Capacities at the Local Level" organized by the Swiss PRO Programme.
Assistant Minister of Public Administration and Local Self-Government Sanja Putnik emphasized the importance of advanced training in the application of good governance principles and of sharing experiences in applying them for successful public administration reform.
"There is a strong link between development and good governance, and all those who completed the training programme should continue sharing their knowledge and experiences and helping their peers in other municipalities that are making the first steps towards implementing good governance principles. Indeed, staff are key to the success of the entire public administration reform and that is why it is important that you have, and that you avail yourselves of, as many opportunities for quality professional development as possible. We are especially grateful to the Swiss Government and our partners in UNOPS for building, in the process, a concept that is fully tailored to Serbia's context and for designing an effective tool for the implementation of good governance principles at the local level," said Putnik.
The certificates were awarded to the representatives of the following local authorities: Babušnica, Bela Palanka, Bojnik, Bosilegrad, Bujanovac, Doljevac, Gadžin Han, Ivanjica, Knjaževac, Lebane, Medveđa, Nova Varoš, Novi Pazar, Preševo, Priboj, Prokuplje, Raška, Sjenica, Surdulica, Svrljig, Tutin, Vlasotince and Vranje. These cities and municipalities now have staff trained in sharing their good governance skills and knowledge.
More information about the event can be found on the Swiss PRO News webpage.
The Government of Switzerland is supporting the Swiss PRO Programme to the tune of 6.2 million EUR from 2018 to 2021.