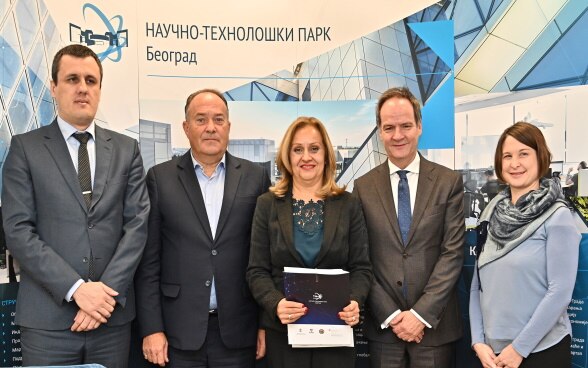 A signing ceremony was held today at the Science Technology Park Belgrade, marking the start of the Swiss cooperation project "Boosting Exports Through Technoparks". This new project has a total budget of EUR 5 million and the Swiss contribution amounts to EUR 3.26 million. The project capitalizes on earlier support provided to innovation and start-ups in Serbia.
The new intervention aims to further develop a network of Science Technology Parks beyond Belgrade in Nis and Cacak, to stimulate development based on innovation and knowledge, and to increase the competitiveness of Serbia's high-tech industry. Cooperation among science technology parks across Serbia developed by this project will animate youth toward tech innovation and start-up opportunities.
In order to further stimulate growth, a large part of the project will be dedicated to providing pre-seed financial support aimed to speed up the establishment and development of start-ups across Serbia. Through various trainings and mentor support, the project will also provide the necessary knowledge and skills to start-ups to develop their innovations and enter the global market.
The Swiss Intellectual Property Office will also be active in this project. It will provide the necessary know-how transfer to the Science Technology Parks and support companies with intellectual property right aspects, a topic often underestimated by start-ups.
Media clipping:
Radio Television Vojvodina (RTV)
The Ministry of Science, Technology and Technological Development