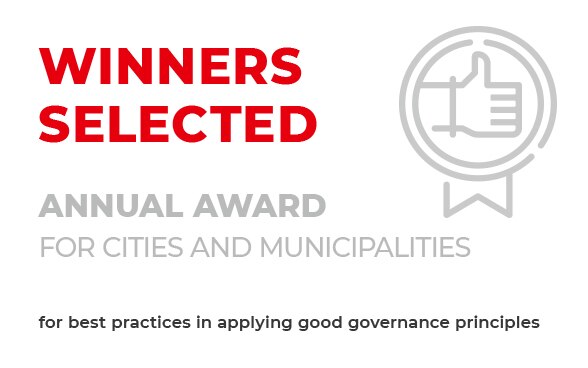 The 'National Annual Award for Best Practices in Applying Good Governance Principles at the Local Level' was introduced in 2018 at the initiative of the MPALSG, the Standing Conference of Towns and Municipalities (SCTM) and UNOPS in Serbia, with the support of the Swiss PRO Program. Thirty-eight applications were received for the second public call for the Annual Award for 2019.
The award is presented in four areas:
●       In the area of Efficiency and Effectiveness where the municipality of Medvedja received the award.
●       In the area Transparency and Public Participation in the Work of the Local Self-Government where the town of Uzice won the award.
●       In the area of Accountability and the Rule of Law the award was given to the town of Pozarevac.
●       In the area Equality and Non-Discrimination the award went to the municipality of Becej.
The MPALSG decided to allocate funds from the Budgetary Fund for the annual award for the best town/municipal administration in 2019, which amount to RSD 10,400,000 in four equal parts - RSD 2,600,000 for each area of the award (for each tow/municipality awarded). The winners will also get additional funding, in four equal lots, amounting to RSD 3,840,000, allocated by the SCTM from the budget of the Swiss PRO Program.
More information about the annual award is available on the Swiss PRO Program website.
The Government of Switzerland is providing EUR 6.2 million of support to the Swiss PRO Program for the period 2018-2021.