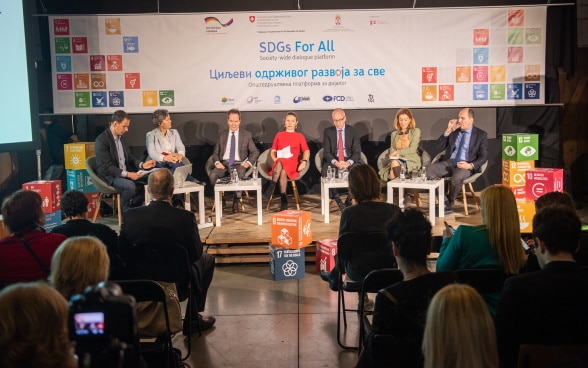 The launching event of the society-wide dialogue platform took place on 4 March at the "Dorcol Platz" in Belgrade. The platform will foster a broad discussion among most non-state actors, including civil society, the corporate sector, the academic and research community, media and citizens on Serbia's sustainable development priorities within the framework of the Agenda 2030.
Up to 150 participants from the government and national institutions, international organizations, the private sector, civil society and academia, including youth participants, showed their interest. They wanted to hear more about complex developmental challenges and learn how to engage.
Philippe Guex, Ambassador of the Swiss Confederation, emphasized: "We believe that through the Platform we are launching today, all relevant non state actors will have an opportunity to take part in a dialogue with the authorities and influence the formulation of policies which are aligned with the SDGs". He referred to Switzerland's positive experience related to the inclusion of all relevant actors in the debate.
The Ambassador of the Federal Republic of Germany, Thomas Schieb, pointed out: "The sustainable development objectives (SDGs) contained in the 2030 Agenda have broad economic, social and political implications. They affect not only decision makers but all other relevant societal stakeholders, both globally and in Serbia".
The Representative of the Ministry without Portfolio in charge of the implementation of the 2030 Agenda in Serbia highlighted that one of the biggest gaps in implementation was the lack of awareness, especially at the local level.  "Because of that, it is our priority to raise the visibility of the 2030 Agenda at global, national and local level".
UN Resident Coordinator to Serbia, Ms. Francoise Jacob, expressed great satisfaction to engage with a wide range of actors and stated SDGs could only happen if everyone understood and embraced sustainability.
The representatives of the civil society organizations, which will coordinate and facilitate the work of the Platform, shared their views on the various dimensions for Serbia. GIZ - the German Organization for International Cooperation – explained the key features of the Platform and pointed to the expected deliverables during the first year of the endeavor.
The "SDGs for All" Platform is supported by the Swiss and German Governments and is being implemented by the GIZ. The Swiss Government supports this program to the tune of EUR 2.6 million.