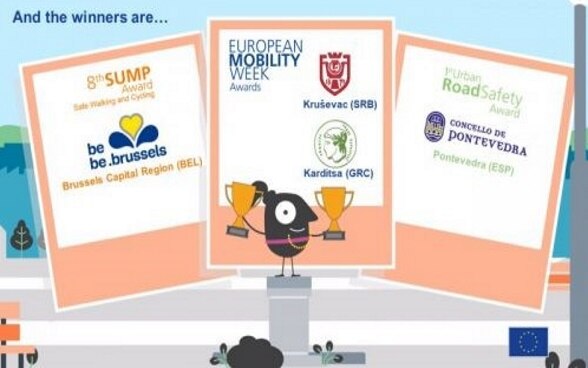 The Serbian city of Krusevac impressed the jury with its wide range of activities, underpinned by strong citizen participation and political support from the local government. Even the mayor was 'walking the walk', coming to work on foot to help spread this year's mobility message. During the European Mobility Week (EMW) 2019 the city streets enjoyed a new burst of life without cars, not only in the centre which was taken over by pedestrians – but also in the suburbs, where people organized a variety of activities. The face of the city was also transformed, with the installation of new cycle paths, walkways, public squares, urban parks, benches and even swings.
The mayor of Krusevac, Jasmina Palurovic, said that the award is the result of many years of work following the city's active participation in EMW. In 2016, it was shortlisted together with Lisbon, Malmö, Skopje, Prague, Valencia and other cities. Krusevac is also known as the first city to adopt a Sustainable Urban Mobility Plan (SUMP).
"It is a good opportunity to draw attention to the use of public areas for sustainable modes of transport and to review the everyday movement habits of residents. This is valuable for the city authorities because in this manner they receive informal feedback from the public," said Jelena Nikolic, Advisor for Sustainable Urban Mobility and Energy Efficiency in the City of Krusevac.
The European Mobility Week campaign takes place every year from 16th to 22nd September, providing an opportunity for European cities to try sustainable transport alternatives. In the previous year, over 3,100 cities applied to participate in the campaign, which makes 2019 the most successful year so far. An independent jury of mobility and transport experts announced the winners on the topic of safe walking and cycling. In the region of the Western Balkans, the ORF-EE, together with its partners – the national associations of municipalities, supported the participation in the EMW 2019.
For more information visit the MEEMP Project website.