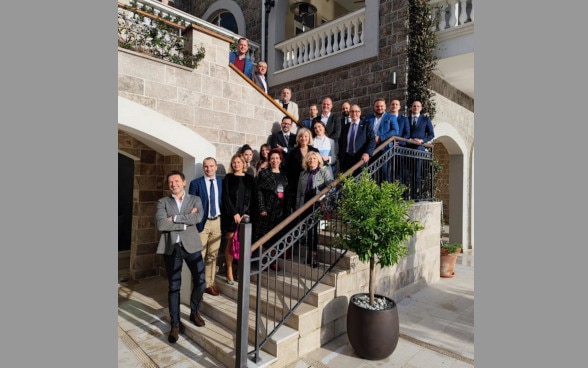 The objective of the gathering was to further intensify bilateral economic relations and to get an overview of the business situation in Montenegro, under the current circumstances given by the Covid-19 pandemic. Special guests at the round table were the Swiss Honorary Consul in Montenegro, Mr. Vladimir Radonjic, and the acting director of the Montenegrin Investment Agency, Mr. Mladen Grgic, who informed the audience about the efforts of the government of Montenegro to improve framework conditions for foreign investors as well as the possibilities of the agency to assist them.
Ambassador Schmid briefed the business representatives about the current status of bilateral relations and the economic development in Switzerland. He observed a growing interest of Swiss companies to invest and open businesses in Montenegro. With around 660 million Euro of FDI since 2003 Switzerland is among to top five foreign investors in Montenegro.
During the meeting it was suggested to explore the possibilities of founding a Swiss-Montenegrin Chamber of Commerce based on the fact that there exists a critical mass of nearly one hundred registered Swiss business entities in Montenegro. Ambassador Schmid welcomed this idea and said the Embassy would be ready to support such a creation and to be involved in an early advisory role.