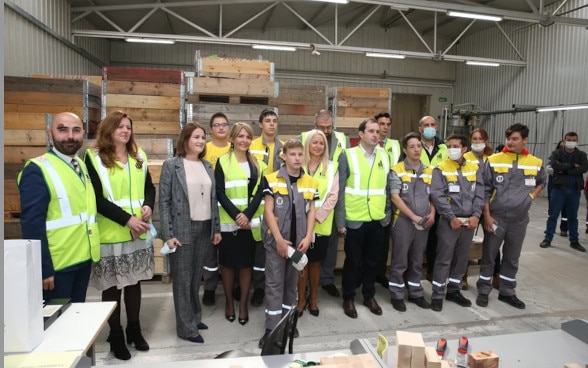 The official ceremony, including a tour of the factory, was attended by Prof. Dr. Gabriela Grujic, Assistant Minister for Dual and Entrepreneurial Education, Mirjana Kovacevic, MA, Head of the Center for Education, Dual Education and Education Policy of the Chamber of Commerce and Industry of Serbia, Jovana Mihajlovic, from the Swiss Agency for Development and Cooperation, Jovica Antic, the Mayor of Cuprija and Maja Manic, director of the Technical School.
"The biggest benefit of this education model is the quality of knowledge and skills that students acquire, but it also offers the opportunity for students to find work in companies in their communities. One of these companies is Standard Furniture Serbia, a business with many years of working experience and cooperation with large multinationals, which is now engaged in the system of dual education", said Prof. Dr. Gabriela Grujic, Assistant Minister. She added: "The goal of this project is to strengthen the dual education system in Serbia and make it sustainable, to familiarize the general public in Serbia with the concept of dual education, for young people to have more career opportunities and for our institutions to have better capacities to monitor and evaluate enforcement of the Law on dual education."
Hardly any business entity in Serbia has escaped the problem of a lack of staff qualified to perform certain tasks, or additional costs related to the training of new employees, due to insufficient practical knowledge and underdeveloped skills after formal education.
Substantial support to the introduction and development of the National Model of Dual Education was provided by the Government of Switzerland within the project "Support in the Development and Establishment of the National Model of Dual Education". "We are preparing a new program, which will focus on building the capacities of schools, but also on improving the conditions for the economy to be included in dual education as easily as possible," said Jovana Mihajlovic from the SDC.
Standard Furniture Serbia has been operating for almost two decades. All the raw materials and the entire labor force that produces the final products, are from the Republic of Serbia. The entire production of the company over the last seventeen years has been 100% export-oriented, going exclusively to IKEA.
The host of the ceremony, general director of the company, Miodrag Perović said, "we believe that investing in young people and educating competent staff is one of the main tasks of companies that plan to do business in Serbia in the long run. The intention of our company is to provide a long-term skilled workforce and to offer young people not only a stable job, but also the opportunity for further education, training and advancement. It is the economy that should participate in creating profiles and developing a better education system in the future."