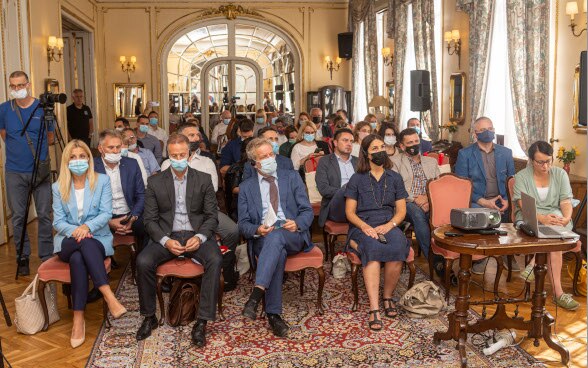 The beginning of the implementation of twelve new projects within the grant scheme Partnership Initiative was ceremoniously marked in Belgrade on September 14th. Selected projects will be implemented in Prijepolje, Ivanjica, Aleksinac, Novi Pazar, the municipality of Palilula (Niš), Užice, Kragujevac, Kraljevo, Ćicevać, Sremska Mitrovica, Ada and Stari Grad municipality (Belgrade). With four projects under the same grant scheme already underway in Čajetina, Nova Varoš, Bor and Knjaževac, ACT has supported sixteen partnership initiatives so far.
Speakers at the event, held at the Aero Klub Belgrade were Mr. Richard Kohli, Head of Cooperation, Embassy of Switzerland, Mr. Jens Engeli, International Team Leader of ACT and the Regional Director of Helvetas for Eastern Europe and Mrs. Maja Stojanović, Executive Director of the Civic Initiatives.               
In his opening remarks, Mr. Richard Kohli said that a constructive and continued cooperation between the civil society sector and the Government was a precondition for a functional democracy and inclusive development. "Local governments are the first entry-point for citizens to address public authorities, therefore we recognize that meaningful cooperation and partnership with civil society and citizens starts at that level. We firmly believe that citizens should be consulted about decisions directly affecting their lives – very importantly so, regarding local budgets or local development plans defining priorities for community development," emphasized Kohli.
Mr. Jens Engely noted that "active citizen participation in the decision-making process at all levels of government is one of the corner stones of a democratic and inclusive society. It requires on the one side an open public sector willing to cooperate with citizens and civic initiatives and on the other side citizens and civic initiatives that respond to requests and needs, and take up their responsibilities.
In her remarks Maja Stojanović said that the role of civil society and local self-governments is to create a community that suits them all. She thanked the grantees because, she said, they have not given up on their goals, and because the communities in which they work are very important to them. She also thanked the local self-governments and especially the people who work in them, who, despite insufficient resources and conditions, are open to work with civil society.
The Swiss Government, through the Swiss Agency for Development and Cooperation (SDC), is allocating EUR 5.37 million for the project "For an Active Civil Society Together - ACT" for the period 2019-2023.