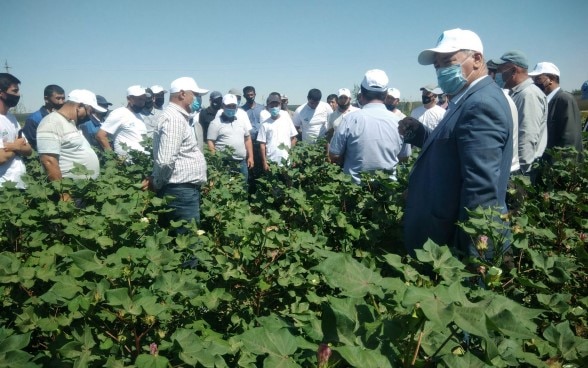 Khabibullo Mamanov from Kashkadarya region enthusiastically shows the cotton field to the participants of the seminar on the introduction of water-saving technologies, which took place throughout the country from 17 to 30 August. He says: "Can you believe that a month ago, the height of cotton sprouts was only 15-22 cm? Moreover, the plants were thin and weak, their color was dull, and the number of flowers on one bush were 5 to 7".
It was a shame as he had high hopes for this field, because a drip irrigation system had been installed on it.
"Within the first week, after we began to use agricultural techniques recommended by the specialists of TOMCHI experts Telegram channel, the cotton grew by 10 cm, and now you can see that it reaches, and in some places exceeds 1 meter. And what pleases the most is that on some bushes the number of cotton bolls reaches 55, which gives us hope for a high yield", - continues Khabibullo.
This story began in mid-July during a 5-day online TOT course on the implementation of water-saving irrigation technologies, organized by the National Water Resources Management Project phase 2(NWRM)  funded by the Swiss Agency for Development and Cooperation (SDC).
The farmer turned to the project specialists for advice complaining about poor growth of cotton and small number of bolls on it. After reviewing the photographs of the cotton field and listening to the farmer, the agronomist of the project advised him to feed the plant often and in small portions and to add microorganisms of the Baikal M1 formulation. He also was advised to deliver liquid fertilizers Baikal M1 and Gramitrel through the leaves, while nitrogen fertilizers were recommended to apply through the drip irrigation system, often and in small portions. "Plants, just like people, should eat little amounts and often," says the agronomist of the TOMCHI group.
Moreover, the project specialist brought together the farmer and the distributor of Baikal M1 in Uzbekistan. The representative of the distributor visited the farm and advised the farmer on how to use Baikal M1. Not everything went smoothly; the proposed agricultural technology was opposed by the cotton cluster authorities, because they did not want additional costs. But only a week later, after seeing the primary result, trust appeared. A month later, Khabibullo was proudly showing his field to the participants of the Water Saving Technologies seminar. The advice from TOMCHI expert improved the seemingly hopeless situation.