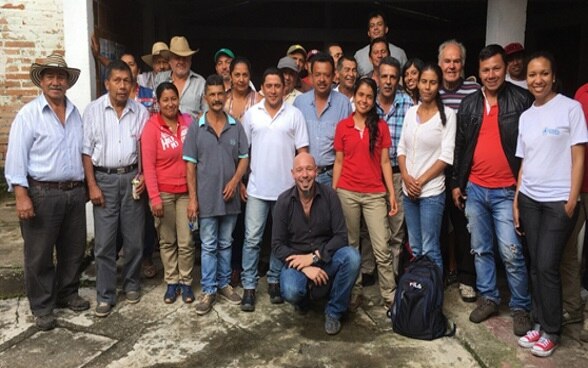 Giuseppe Rullanti belongs to those who decided to devote their career to humanitarian action. Born in Geneva, he starts his career in 1997 with an assignment in Mauritania for the United Nations Refugee Agency (UNHCR). During the next years, he completes other missions in Africa for the UNHCR before joining the Swiss Humanitarian Aid Unit (SHA). He travels to Sudan for his first position at the SDC. Like many other members of the SHA, he is deployed by the SDC to UN agencies and to the Red Cross and Red Crescent Movement. These organisations benefit from his expertise in the field of cash transfer programming in more than twenty countries. Father of a young boy, Giuseppe currently has a roaming role throughout Latin America for the UNHCR. His story is the one of a man committed to alleviating the sufferings that he witnessed at every stage of his long career.
1. Giuseppe Rullanti, why did you choose a humanitarian career?
More than a choice, it is a vocation whose path makes sense once we are in the position to reflect on our own life with lucidity. This makes it possible to balance our relations with people in vulnerable situations and to apply the principle of solidarity as effectively as possible. In my view, this principle must be the only purpose of our engagement. Therefore, this professional orientation comes from my background, my interests in the richness of differences and my personal conviction regarding solidarity. All of these have been reinforced through the passage of time.
2. You are an expert on cash transfer programming. What is this about? 
It is a means to help people in desperate situations. Instead of providing them with relief items, we give them a certain amount of money. The purchase value corresponds to the local products (food or non-food items) that they need. This modality gives them more choices and ensures the dignity of vulnerable people. Moreover, injecting money into a local economy helps to boost it and thus contributes to its development.
3. What has changed between the start of your career and today? 
Broadly speaking, political and economic pressures as well as an increasing bureaucratic burden have led to the alienation of the mandate of humanitarian aid. The principle of solidarity is often biased. It is therefore necessary to focus on then humanitarian character of this work. Another change is the approach on results with the tendency to focus on quantitative aspects rather than qualitative ones. There should be a better balance between those two aspects. Also, more time is needed to build up a relationship based on mutual trust with the population we are working with (and not for).
4. What makes the humanitarian work so special?
Its multidisciplinary mosaic. Beyond the technical specificity of each humanitarian activity (food, shelter, education, livelihoods, etc.), intercultural exchanges offer a constant renewal of our own perception of the world which often suffers from ethnocentrism. In other words, each encountered culture adds a new facet to our personality.
5. Any special moment during your long career that you recall?
It is hard to single out one event as there are so many experiences to share, from a human point of view. I would mention the emancipation of people through the implementation of projects which encourage them to break the vicious cycle of poverty. As the transfer of knowledge leads to a transfer of power, those populations are better able to take control of their future. To bear witness to these transformations is something very special.