"Investing in education is one of the most important things we can do as a society"
The Jacobs Foundation works to improve education systems worldwide. The Swiss philanthropic organisation will share its experience at the IC Forum 2023, which will focus on international cooperation in this field. In an interview, Donika Dimovska, Chief Knowledge Officer, presents some of the initiatives carried out from the Ivory Coast to Colombia to provide the most appropriate learning solutions for each child.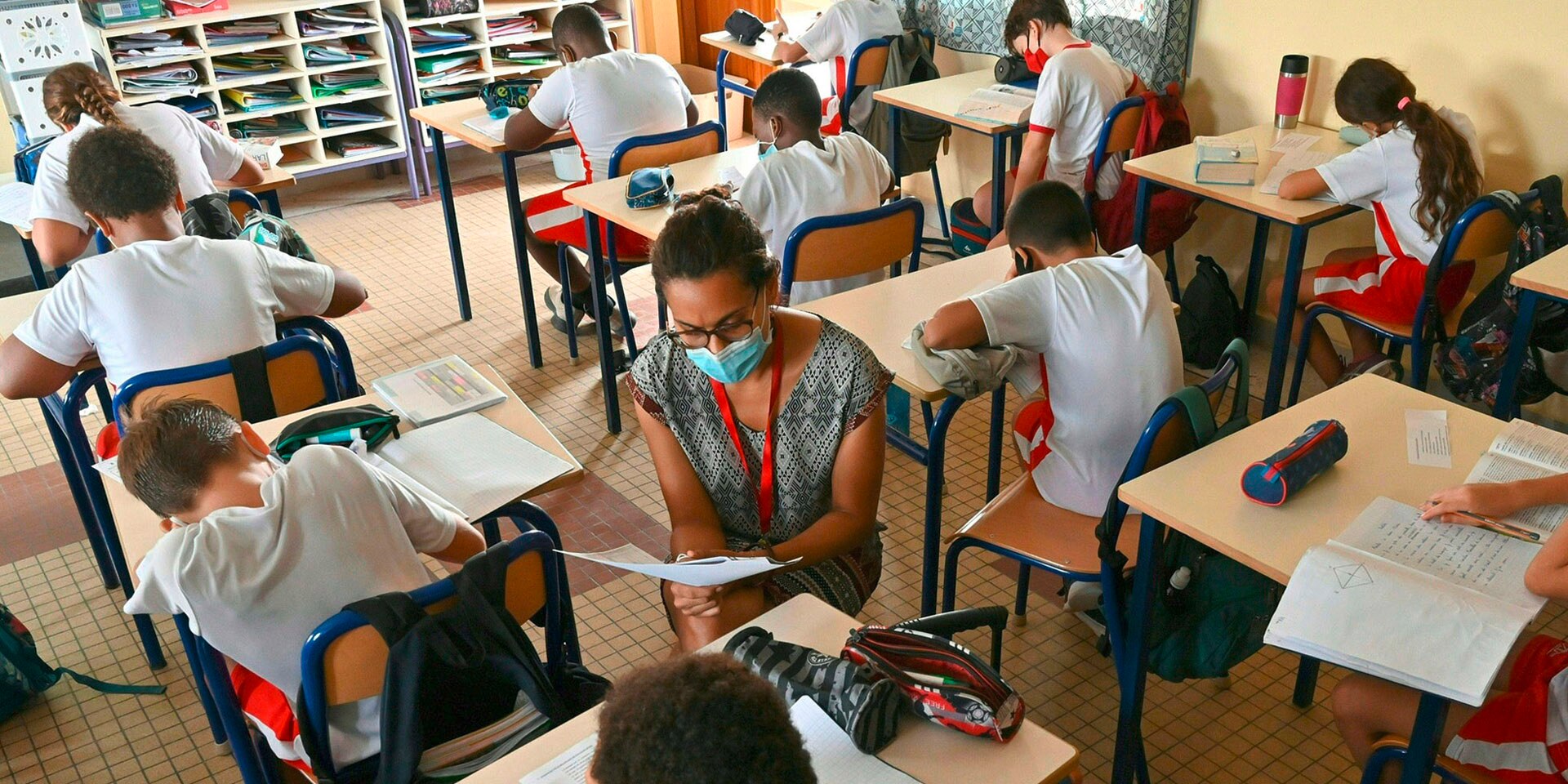 The IC Forum can serve as an opportunity to showcase promising examples of how to work collectively towards quality education for children. © Keystone
"Education For Future: find solutions to make education sustainable and fit for future" is the motto of IC-Forum Switzerland. Why are you personally involved in this area? Why is investing in education so important?
Investing in education is one of the most important things we can do as a society. Every child, no matter their background or where they are in the world, needs access to quality education, and all young people deserve to learn in the way that suits them best. That is why it is essential we invest in research, to generate evidence of what solutions actually help deliver on this promise. By understanding how children learn best, we can build education systems that cater better to the needs of every child and are more resilient to major shocks, such as pandemics and climate change, and can harness opportunities more effectively, such as the digitisation of education.
I am very fortunate to be part of the Jacobs Foundation, a philanthropic organisation that shares these beliefs and has pledged CHF 500 million by 2030 to increase the use of evidence in education policy and practice globally. Through my work with the Jacobs Foundation, and the many wonderful organisations we partner with around the world, I've seen first-hand the impact that effective, evidence-based policies and programmes can have on children – from making sure students in Cote d'Ivoire learn to read at the right age, to innovative phonetic teaching methods such as those introduced in Colombia and Panama by the Luker Foundation, one of  the 2022 Klaus J. Jacobs Best Practice Prize recipients.
What contribution can the Jacobs Foundation make to international cooperation?
We work in several target geographies to support countries' SDG4 targets in line with national education priorities. For example, we work in countries such as Ghana, Cote d'Ivoire, and Colombia to advance the development of national education systems that routinely use and generate evidence. Our role is to ensure that the best available evidence informs decision-making about how to provide quality education to every child.
For instance, last year saw the launch of the Child Learning and Education Facility (CLEF), a pioneering public-private funding coalition to improve access to quality education for millions of children in Cote d'Ivoire.  We helped convene 16 cocoa and chocolate companies, which have pooled their knowledge and resources to support the government of Cote d'Ivoire achieve its key goal of making sure children in remote rural areas are learning. Getting to this point has required building trust among very different stakeholders and shifting mindsets to acknowledge that achieving sustainable impact at scale involves working together and leveraging evidence-based solutions.
IC Forum Switzerland is a platform that brings together different expertise and stakeholders to concretely address innovative solutions to challenges in education. What added value does the Jacobs Foundation bring?
We recognise the value that collaborative platforms like IC Forum Switzerland bring, because we take a similar approach to our own work. One of the core competences of the foundation is the development of multi-stakeholder partnerships and collaborative platforms for engagement of diverse stakeholders – all working towards evidence-based solutions. We know that the challenges that the world faces can only be overcome through collaboration between diverse partners, each bringing in their unique competences and know-how.
The IC Forum can serve as an opportunity to showcase promising examples of how we are collectively working towards quality education for children and lifting our ambition to achieve this goal. We certainly look forward to sharing what we have learned so far with other stakeholders at this year's International Cooperation Forum Switzerland. 
International Cooperation Forum Switzerland, 15.-16. February 2023, Geneva
The motto of this year's International Cooperation Forum Switzerland (IC Forum) is Education for Future. The event will bring together a wide variety of perspectives: policymakers, researchers, representatives from the financial and private sector, NGO workers and young people will be working together to devise solutions to global challenges. The hybrid format of the event and the interactive online platform will allow all interested parties from around the world to take part in the discussions. As part of the Youth for Solutions programme, the second day will focus on young people and their approaches.