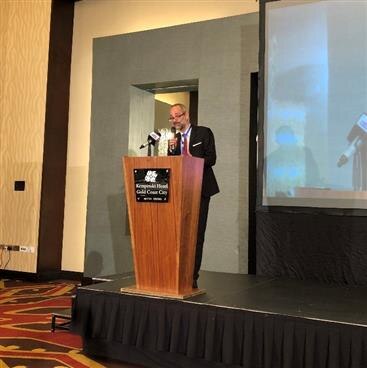 On May 7, the African Corporate Governance Network (ACGN) and the Institute of Directors-Ghana (IoD) with the support of the International Finance Corporation (IFC) and Switzerland through the State Secretariat for Economic Affairs (SECO), organized an international conference on enhancing and sustaining good corporate governance. The conference brought together a wide range of stakeholders from thirteen countries in Africa and served to critically examine the principles and practices of good corporate governance for economic development. The Government of Ghana was represented by the Minister of Business Development, Hon. Ibrahim Awal. The conference featured a wide range of speakers from academia, the private sector and government from across the continent and looked at the different aspects of corporate governance in the context of developing economies. Plenary and breakout sessions provided a lively mix to elaborate further on the topics presented. 
In his goodwill message, the Chargé d'affaires a.i. of the Embassy of Switzerland, Matthias Feldmann, highlighted the important role that corporate governance plays for Switzerland's economic development cooperation and for economic development in general. He stated: "For Switzerland corporate governance has never been a nice to have but always a must have. Good corporate governance standards provide clear and tangible benefits to the bottom line of companies, making them more attractive for investments, and contributing to their seamless integration into the global market."
In 2013, SECO, in partnership with the International Finance Corporation (IFC), facilitated the establishment of the African Corporate Governance Network (ACGN) under the umbrella of the Africa Corporate Governance Program. The ACGN is regional network of local institutes of directors. It serves as a platform to share knowledge and best practices on good corporate governance.