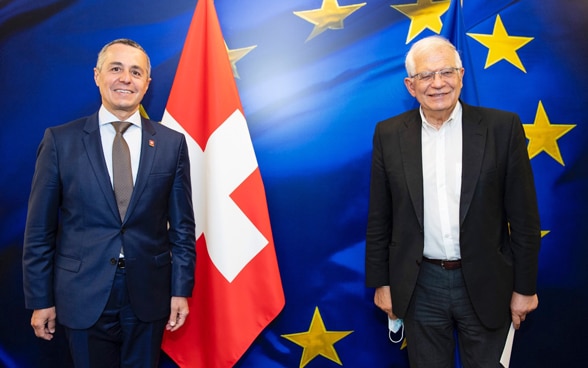 During his visit to the Mission of Switzerland in Brussels, Mr Cassis was accompanied by State Secretary Livia Leu as well as Deputy State Secretary and head of the FDFA's Europe Division Patric Franzen and Switzerland's new head of the Mission, Rita Adam. The partnership between Switzerland and the EU is of primary importance and the mission in Brussels promotes Switzerland's interests in its relations with the EU. Cassis' on-site visit allowed him to speak directly with his staff about their daily work and future challenges, as well as to thank them for their great dedication.
 
His visit also afforded him the opportunity to exchange views informally with Josep Borrell, the EU's representative for foreign affairs and the Commission's vice-president, and EU Commissioner Johannes Hahn. With Borrell, international issues were the main topic. In the foreign policy arena, Switzerland and the EU are important partners and share fundamental values, such as the promotion of democracy and human rights.
Cassis last met Borrell on the margins of the Libya Conference in Berlin on 23 June. He had exchanged views with Hahn at the Europa-Forum Wachau in Austria on 12 June. After both meetings, all sides expressed the desire to continue exchanges. The informal meetings in Brussels on 19 and 20 July allowed this interest to be pursued. Here, Cassis also reaffirmed Switzerland's European policy goals of remaining a reliable and committed partner of the EU.
In Brussels, Cassis also met with European Parliament member Lukas Mandl, who serves on the Committee on Foreign Affairs and has, in this capacity, been tasked with drafting a report on Switzerland–EU relations for the European Parliament.
---
Further information:
Bilateral relations Switzerland–Belgium

---
Address for enquiries:
FDFA Communication
Federal Palace West Wing
CH-3003 Bern, Switzerland
Tel. Communication service: +41 58 462 31 53
Tel. Press service: +41 58 460 55 55
E-mail: kommunikation@eda.admin.ch
Twitter: @SwissMFA
---
Publisher: