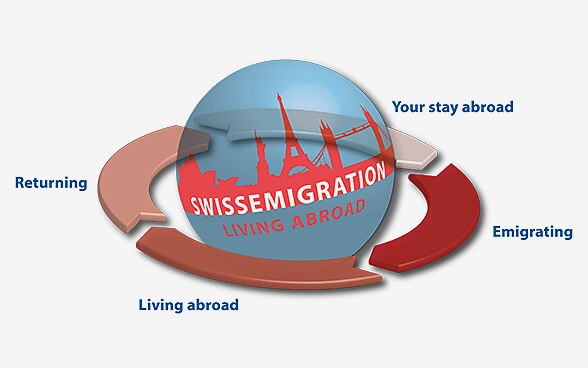 Swissemigration is a service of the Consular Directorate that provides information on stays abroad, emigrating, destinations, living abroad and returning to Switzerland.
According to the Federal Statistical Office, over 31,000 Swiss nationals emigrated on average each year between 2017 and 2019. In 2019, the 10 most popular destinations for emigrants were France, Germany, the United States, Spain, the United Kingdom, Italy, Portugal, Thailand, Canada, and Turkey.
Advice on emigrating from Switzerland
If you're thinking about leaving Switzerland, it's important to consult Swissemigration as early as possible about living and working conditions in your prospective country. Swissemigration can provide online information, guides, country dossiers and statistics on the most popular destinations and give you free advice either in writing or by telephone.
You'll need to do a lot of careful research and obtain accurate information in preparing for a stay or long-term residence abroad. It is also essential to consult the latest FDFA travel advice.
Advice on returning to Switzerland
If you'd like to return to Switzerland, it's important to contact Swissemigration as early as possible regarding entry, registration or looking for a job in Switzerland.
The local Swiss representation is the first point of contact for Swiss nationals abroad.