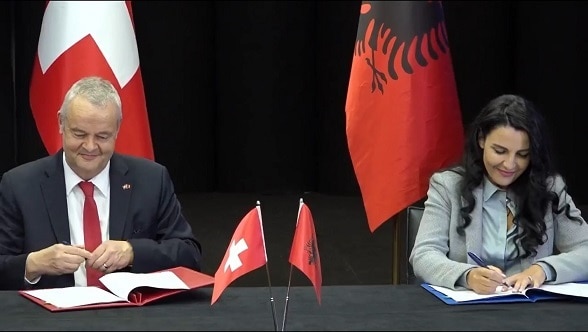 Minister of Infrastructure and Energy Belinda Balluku and Swiss Ambassador Adrian Maître signed the agreement for implementing the Smart Energy Municipalities Project (SEMP) which will establish new energy management models in at least four municipalities. The project funded by the Swiss State Secretariat for Economic Affairs SECO has a budget of 5.3 million Swiss francs – approximately 4.8 million Euro.
"Energy efficiency and renewable energy are two pillars of sustainable energy policies and are place high in the priority lists of countries around the world. The Ministry of Infrastructure and Energy through the Agency for Energy Efficiency is working intensively to support energy efficiency as a new concept in Albania but with high potential for benefits to citizens, environment, and the electro-energy system in the country", said Minister of Infrastructure and Energy Belinda Balluku.
"The benefits are clear: lower carbon emissions, better quality of life, reduced pollution, more attractive cities, and lower energy costs. Let's turn this into a success story and an example of how the future of energy should look like in Albania. I look forward to our common work to build energy-efficient municipalities", said Swiss Ambassador Adrian Maître.

Currently Albania's municipalities do not have any energy management framework established. The project will therefore work to create capacities for smarter energy management with the Agency for Energy Efficiency and the municipalities of Shkodër, Korçë, Berat and Përmet which were selected after a three-step process to be part of a pilot phase. A broader inclusion of other municipalities is being prepared. SEMP will also introduce the European Energy Award model which is the standard for assisting municipalities throughout Europe for energy efficiency, renewable energy, and sustainable mobility.
Municipalities will be supported with integrated energy plans and also will be rewarded for good performance with investment funds and further assistance. Some infrastructure investments – quick win projects – will serve as demonstrations of energy efficiency and will include public lighting, building, and transport. The main result expected is an increased ability of municipalities to plan and manage energy more efficiently. Approximately 270,000 citizens will benefit from improved public lighting and reduction in energy costs.  
The project will be the first to address energy management at municipal level. It will strengthen capacities of both municipalities and national authorities in energy efficiency as well as introduce new technologies and financing mechanisms for the Albanian energy market. It is an important step in Switzerland's engagement supporting Albania to use energy efficiently and to address climate change.