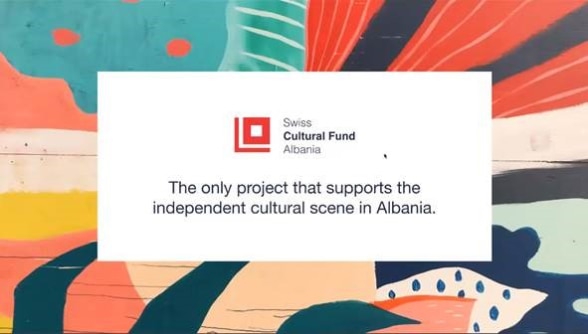 The Swiss Cultural Fund Albania (SCFA) announced a new phase of operations in support of an independent cultural sector, and young and emerging artists. During the video conference launch, the project team presented the main achievements of the first phase (2017-2020) and new opportunities for support in the second phases (2021-2023).
"Arts are central to who we are as people, and quite vital to the life path and success of our young people. Therefore, I am very pleased that in the last 4 years we initialized a specific support for the Albanian independent cultural scene. Albania has talents and cultural potential worth promoting", said Swiss Ambassador Adrian Maître.
The Swiss Cultural Fund Albania is a project by the Swiss Agency for Development and Cooperation SDC, that aims to strengthen the independent cultural sector and enhance the capacities of young and emerging artists.
"We all know that the ecosystem of projects supported by the Swiss Government is determined by serious rules and standards. We as a team follow the same rules and standards", said Dritan Mezini, head of the Center for Business, Technology and Leadership CBTL, which is implementing the Swiss Cultural Fund in Albania.
In this second phase the SCFA has a higher budget and also longer implementation times for projects. Young and emerging artists as well as independent cultural organisations will have a chance to benefit from grants and also from capacity building. Currently, artists and cultural organisations need to improve their management capacities including project proposal writing, networking, promotion and identification of funding opportunities.
Support will be specifically tailored for those creative individuals or entities with potential, but who may be experiencing challenges to accessing financial resources. Another aspect to be addressed by the SCFA is the art environment and the building of cultural communities.