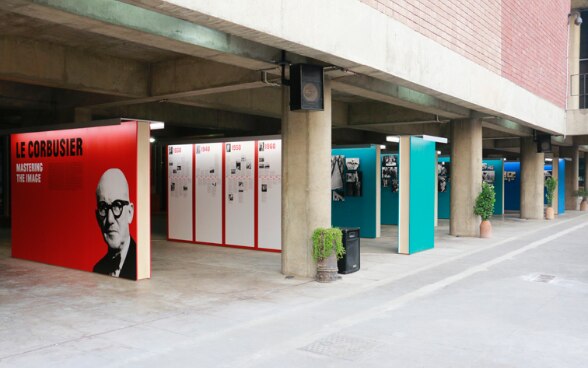 On the occasion of the Year of Swiss Innovation in India and of the 50th death anniversary of Le Corbusier, the Embassy of Switzerland in India presents the exhibition 'Le Corbusier – Mastering the Image.'
With more than 150 photographs, the exhibition documents life and works of Le Corbusier. It is as well the photographic representation of his architectural achievements, thoughts and visions. It showcases the modernity of Le Corbusier and his fascination for new ideas and technologies. Six contemporary photographers -including two from India- portray the influence of Le Corbusier using approaches lying between the artistic and the documentary.
Opening of exhibition in New Delhi on 6th November 2015, 6:30 pm.

After the opening of the exhibition, the same evening, three photographers Ariel Huber (CH), Diwan Manna (IN) and Ram Rahman (IN), will debate on the topic of Limits and possibilities of architectural photography. Architect Pankaj Vir Gupta (IN) will introduce and moderate their discussion.
Exhibition timings: 10:00 am to 5:00 pm, weekends 10:00 am to 08:00 pm
Film screenings @CCD meeting room, Embassy of Switzerland:

- Une ville à Chandigarh-Le Corbusier (1966)  Alain Tanner (CH) (documentary)
- Ronchamp, le bruit des formes (2011) Garance Finger, Pierre Eggimann (CH) (artistic movie)       
- Le Corbusier in India (2001) Manu Rewal (IN/F) (documentary)
- Brasilia/Chandigarh (2008) Luidgi Beltrame (F) (artistic movie)     
Screening schedule:
Friday 6th, 7:00 pm
Friday 13th, 4:00 pm
Saturday 14th,   4:00 pm
Friday 20th, 4:00 pm
Saturday 21st, 4:00 pm
For more information: ndh.events@eda.admin.ch
The exhibition "Le Corbusier - Mastering the Image" is a collaboration with the Museum of Fine Arts of La Chaux-de-Fonds, Switzerland, www.mbac.ch