Clubs
Swiss clubs provide opportunities to exchange views with other people. At events connected with Switzerland (e.g. the national day on 1 August) it is possible to meet some of your fellow Swiss neighbours. Such meetings are a good opportunity to share experiences in the country of posting and learn useful information.
Contact the clubs directly to find out about membership and their current programme.
Swiss Community Israel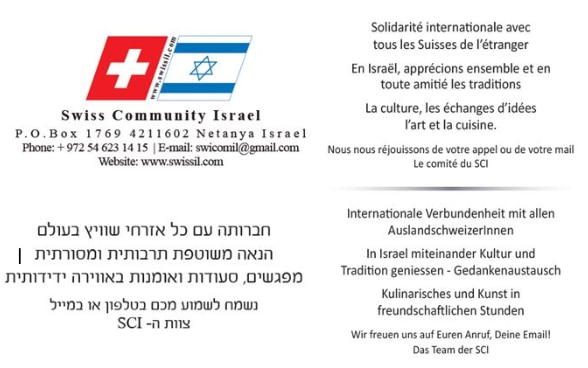 Swiss Community Israel
SCIP.O.Box 1769
IL 42276 Netanya
E-Mail: swicomil@gmail.com
Website: www.swissil.com
Phone: 054 623 14 15 or 054 430 30 47

For more information regarding activities of the Swiss Community in Israel, please consult their website directly:
Our profile

The SCI enjoys a lively existence of several decades. There were always some Ex-Swiss who voluntarily and officially engage themselves with pleasure within their spare time for the Community.
Our common background, irrelevant of religious beliefs, explains the pleasure to meet new people speaking the same language - German, French, Italian, English, Ivrith … and to enjoy the activities together in the SWISS COMMUNITY ISRAEL.

The strength of our organization is mainly to be a meeting place for all Swiss in Israel who want to preserve and not forget their Swiss bond even without a place of our own.
The leading team of the SCI keeps a constant creative effort to preserve the freedom and independence of the Community and guard a sensible circle of friendship.

Enquiries and suggestions are warmly welcome and will be discussed in our team or passed on to the right connection.

The Organisation
SCI Team

President: Karin Bloch Elsohn 054 623 1415
Administration: René Leserowitz 054 430 3047
SCI commitée pour les romands: M. Laurent Schwed 058 717 6731
E-Mail: swicomil@gmail.com

SC North

Manager: Brigitte Weidmann 052 374 9602
E-Mail: brigitte@hanita.co.il
Our aim

To be a strong organization with human qualifications.
Israeli Swiss Association
The Israeli-Swiss Association (GIS) is a service-oriented friendship organisation in Israel. The main focus is on strengthening bilateral relations between Israel and Switzerland. The range of our projects reaches from promotion of Swiss social projects in Israel to special interest tours and providing interesting contacts in Israel to visitors from Switzerland. Our weekly news-service 'Israel – Between The Lines' (published in German, French and English) is distributed abroad to thousands of recipients.
Organisation of the Swiss abroad (OSA)

Delegates for Israel:
Swiss in Israel Facebook Group