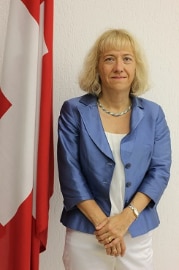 On the 1st of September I landed in Ivory Coast with the perspective of spending the next four years as Swiss Ambassador here. It is an honor for me to represent my country in this important West African country with whom we share intense economic bilateral relations as well as many scientific partnerships. I will devote my time to deepening and strengthening those relationships and to make the various Swiss engagements which have made our reputation here more visible.
A new team arrived together with me in Abidjan. Mr Thomas Heimgartner, Counsellor, and Mrs Marie-Claude Ming, Consul, have replaced Mr Cuenat and Voutat. I thank warmly those colleagues who left the Embassy last summer and took new positions and I look forward to working with a dynamic and committed team for the benefit of the two countries.
Within my function, I will have the opportunity to make official visits to the other countries of the Embassy's jurisdiction, namely Burkina Faso, Guinea, Liberia and Sierra Leone. The fact that the Swiss Development Agency is active In Burkina since more than forty years shows the strong friendship and support for this Sahel country. In Guinea, Liberia and Sierra Leone, the Embassy is represented by highly qualified Honorary Consuls who are following several issues for us.
This enlarged "family" of the Embassy will follow the purpose of deepening Switzerland's relationships with the five countries for the benefit of all.
Anne Lugon-Moulin
Ambassador