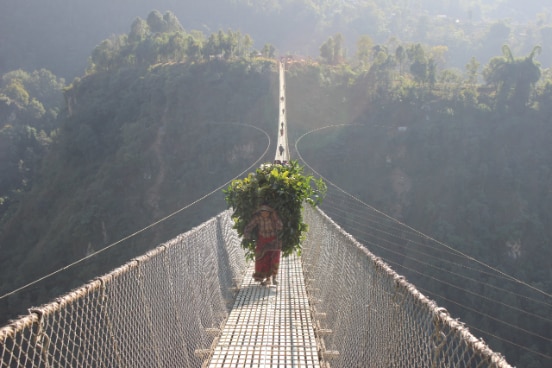 Switzerland is supporting the democratic development of the new federal state in Nepal. Through the SDC, it is working to promote equitable socio-economic development and to enable men and women to exercise their rights and responsibilities within the new federal structures.

Nepal is undergoing profound demographic, economic and political transformations. It is urbanising very rapidly, with the proportion of people living in cities expected to double by 2050. Labour migration, mainly to Malaysia and the Gulf States, has significantly contributed to reduce poverty rates from 53% to 23% in 15 years, thanks in particular to remittances sent home from Nepalese workers from Malaysia and the Gulf States. Nepal's dependency on remittances however also renders the country vulnerable to fluctuations in the regional economy, and for instance as a result of the CoVID-19 pandemic labour migration has substantially slowed down in 2020-21.
Nepal adopted a new federal constitution in 2015, creating 753 local governments and seven provinces. Elections in 2017 led to the appointment of thousands of newly elected officials from a range of social and economic backgrounds. However, forging a political culture that addresses the needs of the entire population remains a challenge, as does the functioning of the new federal system.
Swiss Contributions to Development and Cooperation
The Swiss Cooperation Strategy for Nepal 2018-2021 foresees total disbursements of approximately CHF 130 million (equivalent to NPR. 14.7 billion) over four years. It emphasizes inclusive federal state building, promotes employment and income, and contributes to the safer migration of Nepali migrant workers. Across all its interventions, SDC aims to address inequalities amongst different social, ethnic and religious groups and to contribute to disaster risk reduction.
Swiss development cooperation in Nepal focuses its interventions mainly at the province and local levels, fostering in particular the socio-economic development of women and members of disadvantaged population groups, and helping to build sustainable and inclusive institutions.