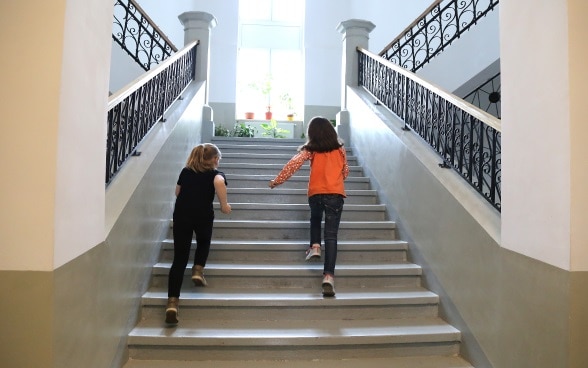 Romania is the second largest of the countries to have joined the EU since 2004. Because of the country's considerable potential to realise cost savings through reductions in energy consumption and greenhouse gas emissions, Switzerland is providing approximately CHF 37 million to four Romanian cities to help them develop and implement a sustainable energy policy.
The over 300,000 inhabitants of Cluj-Napoca – Romania's second-largest city – are among the beneficiaries of this programme. Nestled in a region of mountains and forests, the city has many prefabricated housing estates from the communist period and a historic centre dating to the Middle Ages.
Energy-efficient renovation of schools
Many of Cluj-Napoca's public buildings, like its prefabricated housing estates, are old and in need of renovation. Switzerland's contribution has enabled two schools – including one in a 100-year-old listed building – to be renovated to energy-efficient standards, reducing greenhouse gas emissions. Some 1,500 pupils and teachers are now benefiting from a better environment to learn and work in. By bringing down the school buildings' energy and maintenance costs, the programme has reduced the financial burden on taxpayers and the city.
Sustainable street lighting and electric buses
With Swiss support, Cluj-Napoca has replaced old street lamps on 22 streets with 1,300 energy-efficient LED lights that can be individually controlled by means of a state-of-the art control system, making the streets safer at night. Old lamps have also been replaced on market squares and pedestrian passageways. 
Switzerland has also made a tangible contribution to public transport: eleven electric buses co-financed by Switzerland to replace diesel buses have been operating on the city's streets since last year. Thanks to Swiss support, the electric buses can now recharge their batteries at newly installed charging stations at bus terminals and the city's main bus depot. The network of charging stations and training provided for bus drivers ensures that the city's electric buses run smoothly.
It is estimated that thanks to Switzerland's support, Cluj-Napoca will now be able to save CHF 240,000 in energy and maintenance costs and reduce its CO2 emissions by 1,400 tonnes per year. Precise measurements are not yet available.