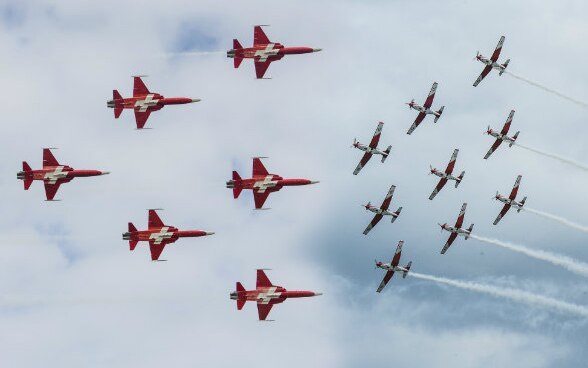 The Patrouille Suisse - the Swiss equivalent of the British Red Arrows – will make a welcome return to the Yeovilon Air Day and the Royal International Air Tattoo, and the PC-7 Team will take to the skies at the Cosford Air Show.
"I am delighted to welcome two Swiss aerobatic teams back to the UK this summer. The teams' presence reflects the friendship and good relations between both countries' air forces."
Colonel (GS) Martin Lerch, Defence Attaché of Switzerland to the United Kingdom
Founded in 1964, the Patrouille Suisse is one of four display teams of the Swiss Air Force. With its shows, both at home and abroad, it has become a trademark for Switzerland, showing the capability, precision and readiness of its air force. The aircraft are F-5E Tiger II jets.
Since 1989 the PC-7 display team has been delighting spectators at home, and since 1992 also at air shows abroad.  The aircraft are Pilatus PC-7 turbo trainers.
Royal International Air Tattoo