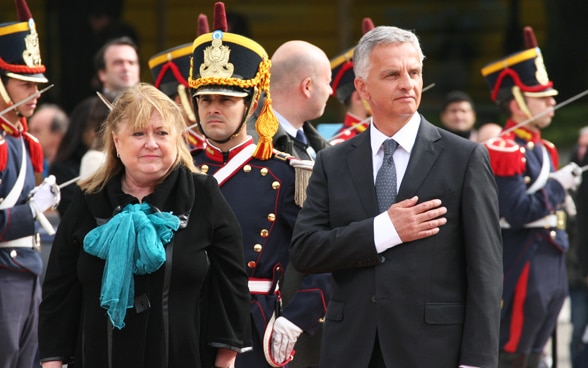 With a trading volume of around CHF 2.1 billion, Argentina is Switzerland's third most important economic partner and second most important importer of Swiss goods in South America. The new Argentinian government has initiated various economic reforms. The further development of bilateral trade and economic relations was therefore also one of the topics discussed by Mr Burkhalter with Ms Malcorra in Buenos Aires. Before the end of this year, a joint economic commission will explore possibilities to promote trade and investment between the two countries. Mr Burkhalter and Ms Malcorra also conferred about the possibility that Argentina will chair the G20 in 2018. In this context, Ms Malcorra said that Switzerland could offer its expertise to support Argentina in addressing financial questions and combatting corruption. Switzerland is not a member of the G20. Another subject of the bilateral talks was a free trade agreement between the European Free Trade Association (EFTA), of which Switzerland is a member, and the South American trade bloc Mercosur. An exploratory dialogue between the two parties on initiating negotiations to this end is already under way.

Mr Burkhalter and Ms Malcorra signed a joint declaration as a basis for deepening and expanding cooperation between the two countries. The two countries took a concrete step forward in the field of science. Federal Councillor Burkhalter and Lino Barañao, Argentina's Minister of Science and Technology, signed an agreement on closer cooperation between the Swiss National Science Foundation, the Argentinian Ministry of Science and Technology and Innovative Production and Switzerland's National Research Council. Various bilateral research projects are expected to be funded as a result of this agreement.

Switzerland and Argentina are also working together to strengthen human rights, particularly in the areas of dealing with the past, transitional justice and the prevention of atrocities. Before meeting with Foreign Minister Malcorra, Mr Burkhalter visited the memorial park on the banks of the River Plate that honours the memory of the thousands of people who were murdered and disappeared during the military dictatorship from 1976 to 1983. Besides the two countries' commitment to the abolition of the death penalty and the prevention of torture, other potential areas for cooperation are development cooperation and voluntary undertakings by companies active in the extraction of and trade in raw materials.

Following his bilateral talks with Foreign Minister Malcorra, Mr Burkhalter met with Vice President Gabriela Michetti, with whom he also discussed Switzerland's support for Argentina in the event that it will chair the G20 in 2018. They also discussed Argentina's economic reforms and the challenges facing the region, for example with respect to drug trafficking.

Mr Burkhalter also visited a momument known as 'Argentina and Switzerland United above the World', a gift given by the Swiss community to their adopted country in 1914 to mark the centennial anniversary of Argentina's independence. The monument is a symbol of the friendship between the Switzerland and Argentina, which established diplomatic relations 125 years ago. Some 16,000 Swiss nationals are currently living in Argentina – the largest Swiss community in South America.

Meeting with descendants of Swiss immigrants in Uruguay

From Buenos Aires, Federal Councillor Burkhalter is travelling on to Uruguay, another South American country with which Switzerland has close historical ties. On 27 May, he will meet with descendants of Swiss immigrants in the city of Nueva Helvecia. Situated in a region that was ravaged by severe flooding in April 2016, Nueva Helvecia has received emergency aid from Switzerland and is also receiving Swiss support for reconstruction efforts. Mr Burkhalter will then meet with his Uruguayan counterpart Rodolfo Nin Novoa in Montevideo.
---
Address for enquiries:
Information FDFA
Bundeshaus West
CH-3003 Bern
Tel.: +41 58 462 31 53
Fax: +41 58 464 90 47
E-Mail: info@eda.admin.ch
---
Publisher: