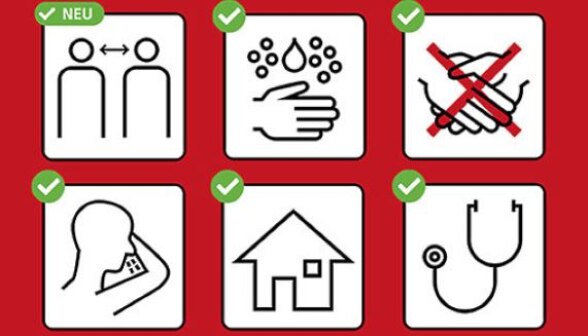 As a result, all Embassy events have been postponed or cancelled, through April 30, 2020.

Despite the cancellation of events, the Embassy will operate with minimal staffing per guidance from Switzerland's Federal Department of Foreign Affairs (FDFA). In an abundance of caution, please call or email the Embassy should you need to get in touch or visit us.

Address: Melik-Adamyan Street 2/1, 0010 Yerevan, Phone:+374 10 52 98 60, Email: yerevan@eda.admin.ch. 

During off-hours and weekends, call the Embassy emergency phone no. +995 599 58 03 60

. 

We will continue to monitor the situation as it evolves and will follow guidelines provided by the FDFA, as well as the Centers for Disease Control and Prevention (CDC) and the World Health Organization (WHO). For Swiss citizens traveling abroad, please refer to the FDFA travel advice, FDFA FAQ and/or contact the FDFA helpline +41 800 24 7 365 or +41 58 465 33 33.

Please refer to the information page on the novel coronavirus set up by the Federal Office of Public Health (FOPH), which is updated regularly. The WHO also provides information on developments regarding COVID-19 as well as behavioral guidelines.

Please also refer to the information provided by the National Center for Disease Control of Armenia, as well as download the official Covid-19 information application by the Armenian Government. This app (iOS, Android) will help you stay up to date with the latest official news about Covid-19 in Armenia. You can determine if Covid-19 signs are present and understand whether or not you should visit a medical facility. 

Suspension of visa issuance

On 18 March 2020, the Swiss Federal Council decided, that entry at the Schengen external borders is generally prohibited with few exceptions. Switzerland follows the practice of the other Schengen states. Until 15th June 2020, Switzerland will also no longer issue Schengen visas. National visas will also only be issued in exceptional cases, for example to family members of Swiss citizens with a right of presence in Switzerland who require a visa and to specialists from the health sector.

For additional information, please consult the webpage of the State Secretariat for Migration SEM.
Travel Admin application 
The Embassy recommends Swiss travelers to use the Travel Admin application available for iOS and Android. 
The Travel Admin tool provides you with the possibility to enter the dates of travels abroad (short stays) on this portal. This information will help the Federal Department of Foreign Affairs locate and contact you more rapidly if a situation abroad can affect your safety. You will receive push notifications if the security situation in a region changes.