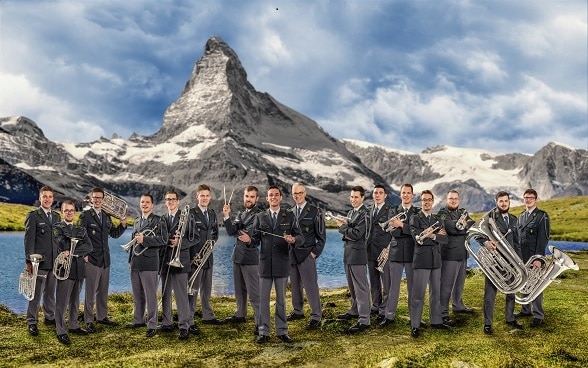 We will celebrate Switzerland's National Day in a very special way this year with a series of live performances by the Swiss Military Small Band in Canberra, Sydney and Melbourne.

The formation of sixteen young musicians will perform with the Royal Australian Military College Band in Canberra at the Australian War Memorial on 3 August 2018 12pm. On 5 August, the band will join the Swiss National Day Celebration of the Swiss Yodlers of Sydney at Castle Hill Show Ground (Sydney, 11.30am - 5pm) ) for combined performances with the Royal Australian Navy Band and the Australian Army Band. A final performance will take place in Melbourne on 8 August 2018, 12pm at Federation Square together with the Royal Australian Air Force Band.

The Swiss Military Small Band is composed of the finest young military musicians from the Brass Band Recruit School 16-1/2018, who finished their 18-week basic training in May 2018. The musicians come from all over Switzerland and are all musicians in civilian music clubs.

The repertoire of the ensemble not only includes traditional Swiss songs and various Swiss marches, but also the national anthems of host countries and favorites of popular and classical repertoires.

This series of performances is organized by the Embassy of Switzerland in Canberra and the Consulate General of Switzerland in Sydney, with support from RUAG.