Embassy of Switzerland in Azerbaijan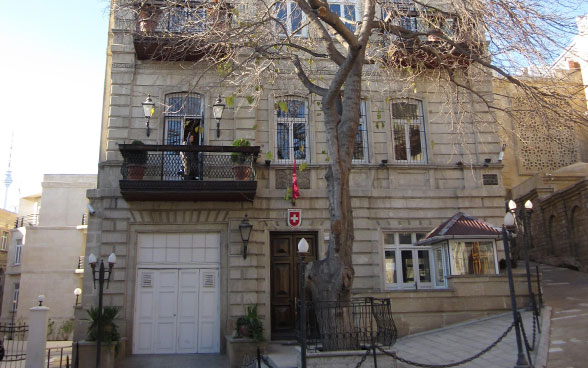 As the official representation of Switzerland, the Embassy covers all matters concerning diplomatic relations between the two countries. It represents Swiss interests in the areas of political, economic, financial and legal affairs, as well as science, education and culture.
Coronavirus (COVID-19)
The Swiss authorities call on Swiss tourists and business travelers to return to Switzerland now and organize their journey independently.
In addition, the Federal Council has been advising since 13 March 2020 to refrain from non-urgent travel abroad until further notice.
FDFA Travel Advice (de, fr, it)
Focus Coronavirus (2019-nCoV) (de, fr, it)
Please consult the website of the Swiss Federal Office of Public Health to be informed of the current situation and measures in place.
Since more and more airlines are cancelling their flights to various regions and countries, it is essential that you contact your airline immediately to ensure your return journey to Switzerland. Numerous airlines have already cancelled their flights to and from Azerbaijan.
The Azerbaijani Government is introducing specific measures such as temperature screening and quarantine upon arrival, self-quarantine and health certificate to visitors based on their recent travel history.
If you are currently travelling abroad, please also make sure you are registered on Itineris so that you can be contacted by the relevant Swiss embassy if necessary.
More information on the situation and measures in Azerbaijan here:

The Cabinet of Ministers of the Republic of Azerbaijan
Other relevant sources of information here:
International Air Transport Association, IATA
Helpline FDFA (Federal Department of Foreign Affairs of Switzerland):
+41 800 247 365
+41 58 465 33 33
helpline@eda.admin.ch
Infoline Coronavirus: +41 58 463 00 00
Coronavirus (COVID-19) - Visa for Switzerland
Due to the current situation, relating to the Coronavirus outbreak, the Swiss Federal Council has decided on 18.03.2020 to suspend with immediate effect the issuance of all Schengen as well as national visa for Switzerland until 15.06.2020. No visa applications will be accepted, except in some limited cases: foreign health workers, and applications from close family members (spouse and children) for family reunification / residency (national visa D).
All foreign nationals including citizens of EU/EFTA countries who are already holders of a Swiss residency permit, a cross border permit or of a Legitimation Card, can still enter Switzerland upon presentation of their valid residency permit. Swiss citizen can enter Switzerland at any time.
Public announcement of the Swiss Federal Council in German
Public announcement of the Swiss Federal Council in French
Public announcement of the Swiss Federal Council in Italian
Appointments for consular issues:
The consular activities of the Swiss Embassy in Baku remain in a reduced form.
Due to the COVID-19 situation consular services at the counter will, until further notice, only be provided in urgent cases and exclusively when an appointment has been agreed in advance. As before, the Embassy can be reached over the telephone. Please send your written inquiries to baku@eda.admin.ch.