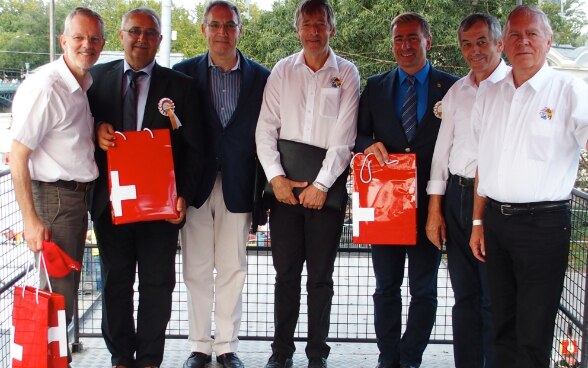 The president of the Marché-Concours of Saignelégier, Gérard Queloz, and a delegation from the Canton of Jura visited the National Gallop in Budapest on the 19th and 20th September within the program "Swiss-Hungarian Friendship – Culture and Traditions in the Heart of Europe".
The guests from the canton of Jura were visiting the National Gallop to discover similarities, to establish a first contact between the organizers, exchange experience, and examine a possible future cooperation and partnership. On the occasion of the meeting President Queloz invited the President of the National Gallop, Vilmos Lázár, to the next Marché-Concours in Saignelégier from the 12th to 14th August 2016.
In cooperation with Schweiz Tourismus and Jura Tourismus the Embassy of Switzerland set up a stand at the Andrassy Street. The visitors were informed about the landscape, activities and the Freiberger horses of the canton of Jura.
The National Gallop in Budapest and the Marché-Concours in Saignelégier are two of the greatest horse festivals in Europe. Both attract about 50'000 visitors each year. The Marché-Concours is a horse show in a very different scenery, but similarly spectacular, as a video clip on a screen at the National Gallop showed the visitors. It was organized for the first time in 1897 on the countryside of the canton of Jura.