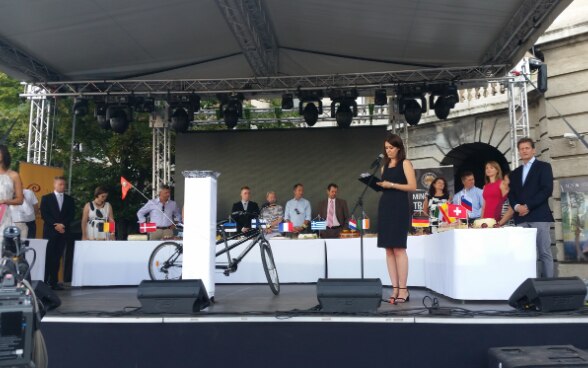 On 11 September the price giving ceremony of the cheese contest of nations took place at the 25th wine festival on Budapest castle hill. It was the fourth time SZEGA Camembert Kft. organized the event. This year the Vacherin Fribourgeois was the candidate of Switzerland. It is a cheese which is perfectly suitable for a real Swiss cheese fondue.

Beside the cheeses of Hungary and Italy, which shared the first prize, the French and the Spanish candidates were able to marginally leave the Swiss cheese behind.

The income from the tasting boxes was partially given to the "Mozdulj" association, which supports visually impaired people. The cheese whole seller also gave a tandem bicycle to the association, which is used to enable visually impaired people to take part at the annual bicycle tour around Lake Balaton.