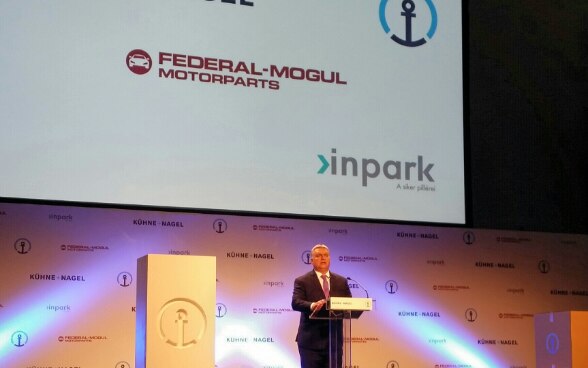 With the ceremonial handing over of the warehouse, which was built in Páty, Kühne + Nagel became the first logistics service provider to rent a hall from the state industrial park developing company NIPÜF Zrt. in the context of one of the largest industrial park building programs in Europe.
Only ten months after the cornerstone for this building was set by Péter Szijjartó, Hungarian Foreign Affairs and Trade Minister, it was inaugurated by Prime Minister Orbán on 10 October, in the presence of the Ambassador of Switzerland to Hungary. On an area of 23'000 m2, Kühne + Nagel will manage the storage and the distribution of goods of the US-based automotive supplier Federal Mogul.
The leading logistics company in Hungary, Kühne + Nagel, became also the first global logistics service provider to sign a strategic partnership agreement with the Hungarian government. Márton Lányi, Managing Director of Kühne + Nagel in Hungary, valued this as an indication for Hungary's effort to make a name for itself as the logistics hub of Central Eastern Europe. In order to achieve this, he advised to reduce bureaucracy concerning the electronic cargo scanning system EKÁER and offered his specialist support in this regard.