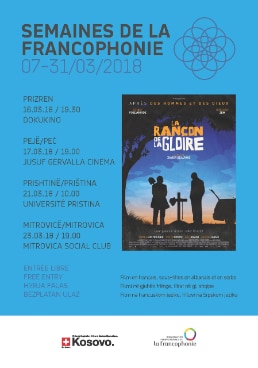 We are happy to invite you to the 16th edition of the Festival du film francophone – French Film Festival – in Kosovo, organized by the Embassies of France, Luxembourg and Switzerland. On this occasion, the Swiss Embassy in Kosovo will show two films in Pristina.
The documentary "Mais im Bundeshuss – Le génie helvétique" from Jean-Stéphane Bron will be shown on 25 November at 18:00 at ODA Theater in Pristina with Albanian and Serbian subtitles. The screening will be followed by a discussion on the topic "Parliamentary work behind the scenes: negotiations, tactics and strategies" and a subsequent aperitif. The discussion will be held in English with a possible translation from/to Albanian and Serbian.
The movie "Deux jours avec mon père " from Anne Gonthier will be shown on 26 November at 12:00 at ODA Theater with English, Albanian and Serbian subtitles.
Screenings will also be organized in Peja/Peć and Prizren. Link to the programme (PDF, 1 Page, 266.2 kB).
We would be pleased to welcome you to these events.