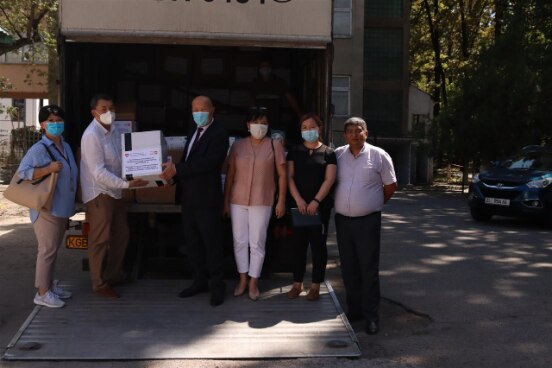 This support in the amount of 15 million som has been provided to the Government of the Kyrgyz Republic in response to COVID-19. In coordination with the Ministry of Health all personal protective equipment will be allocated for equipping medical mobile teams in Chui, Naryn and Osh regions of Kyrgyzstan.
The humanitarian aid consists of the following:
• Nitrile Examine Gloves – 100 boxes;
• Isolation Gowns – 3800;
• Coveralls – 3800;
• FFP2 Face Masks – 3700;
• Surgical Masks – 5000;
• Goggles – 3800;
• Face Shields – 3800.
Having access to quality personal protective equipment and knowing how to use it correctly, healthcare workers will be protected to continue providing essential services and not be at risk for their peers, patients, families or communities thereby decreasing human-to-human transmission. 
The Embassy of Switzerland in the Kyrgyz Republic and UNFPA encourage citizens to follow all sanitary precautionary measures to help health facilities to reduce the burden.