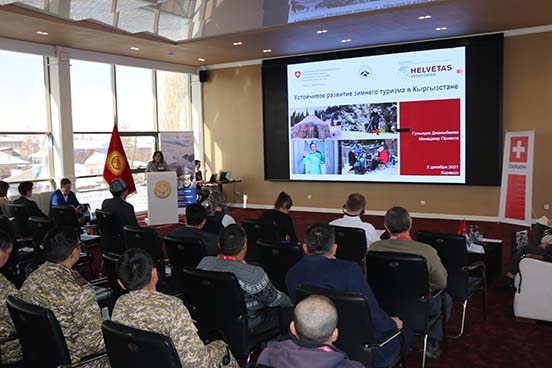 Switzerland has allocated CHF 3.5 mln (around 320 million soms) for the project to contribute to decent work and income opportunities for many people working in this area. It will help to develop cross-country skiing, ice skating, snow shoeing and other winter sport activities in Karakol destination, which then will be roll out in other regions of the country.
The event was attended by representatives of Kyrgyz authorities, international organizations, tourism businesses, civil and expert communities.

"I am confident that through our joint efforts we can achieve success in development of winter tourism. Moreover, we can make our country famous in many parts of the world and create an effective mechanism of sustainable winter tourism development", - said Kiyal Kenjematova, Deputy Director of the Department of Tourism under the Ministry of Culture, Sports, Information, Tourism and Youth Policy.

"Tourism in Kyrgyzstan can become an important contributor to economic growth, creating income and economic opportunities for many people. Supporting the Kyrgyz Government and other Kyrgyz partners in their efforts to develop the private sector including for tourism remains one of the priorities of the Swiss cooperation", said Olivier Bangerter, Swiss Ambassador to Kyrgyzstan.

The Swiss project will also address the issues of climate change and environmental protection. During the event, the participants were presented with main areas of work and planned activities.

The first phase of the project is designed for four years and implemented by Helvetas Kyrgyzstan.