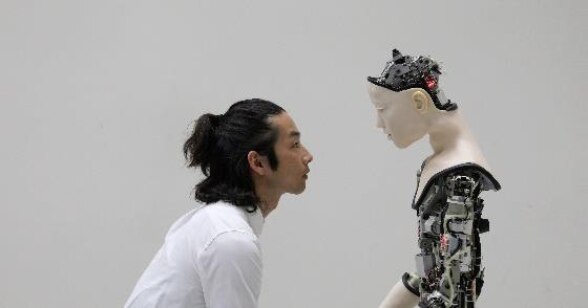 Artificial Intelligence (AI) and Robotics will soon permeate every domain in our society and every aspect in our daily life, bringing new relationships between humans and technology. The advance of AI in domains such as autonomous driving, facial identification or healthcare and the developments of humanoid robots with autonomous behaviours and maybe soon emotions bring key interrogations and ethical issues for research, economic implementation or societal impact of AI and robotics.
These questions will be addressed in a discussion between two well-known scientists:
Prof. Nadia MAGNENAT THALMANN
Director of the Institute for Media Innovation at Nanyang Technological University (Singapore) and Director, MIRALab, University of Geneva.
Prof. Raja CHATILA
Director of the Institute for Robotics and Intelligent Systems at Sorbonne University (Paris)
The event will also feature a screening of the video artwork "Co(AI)xistence" (2017) by French artist Justine Emard with Japansese actor and dancer Mirai Moriyama and the robot Alter (developed by Ishiguro lab, Osaka University and Ikegami Lab, Tokyo University).
FREE Talk conducted in English please register here.